»

Recipes

»

Asian

»

Gosht

»

Gosht Kofta Korma
Gosht Kofta Korma Recipe
'Gosht' means meat of the Lamb/Mutton. Kofta's implies spicy deep-fried balls and Korma is thick gravy. This Meatballs Korma is an absolutely delicious dish.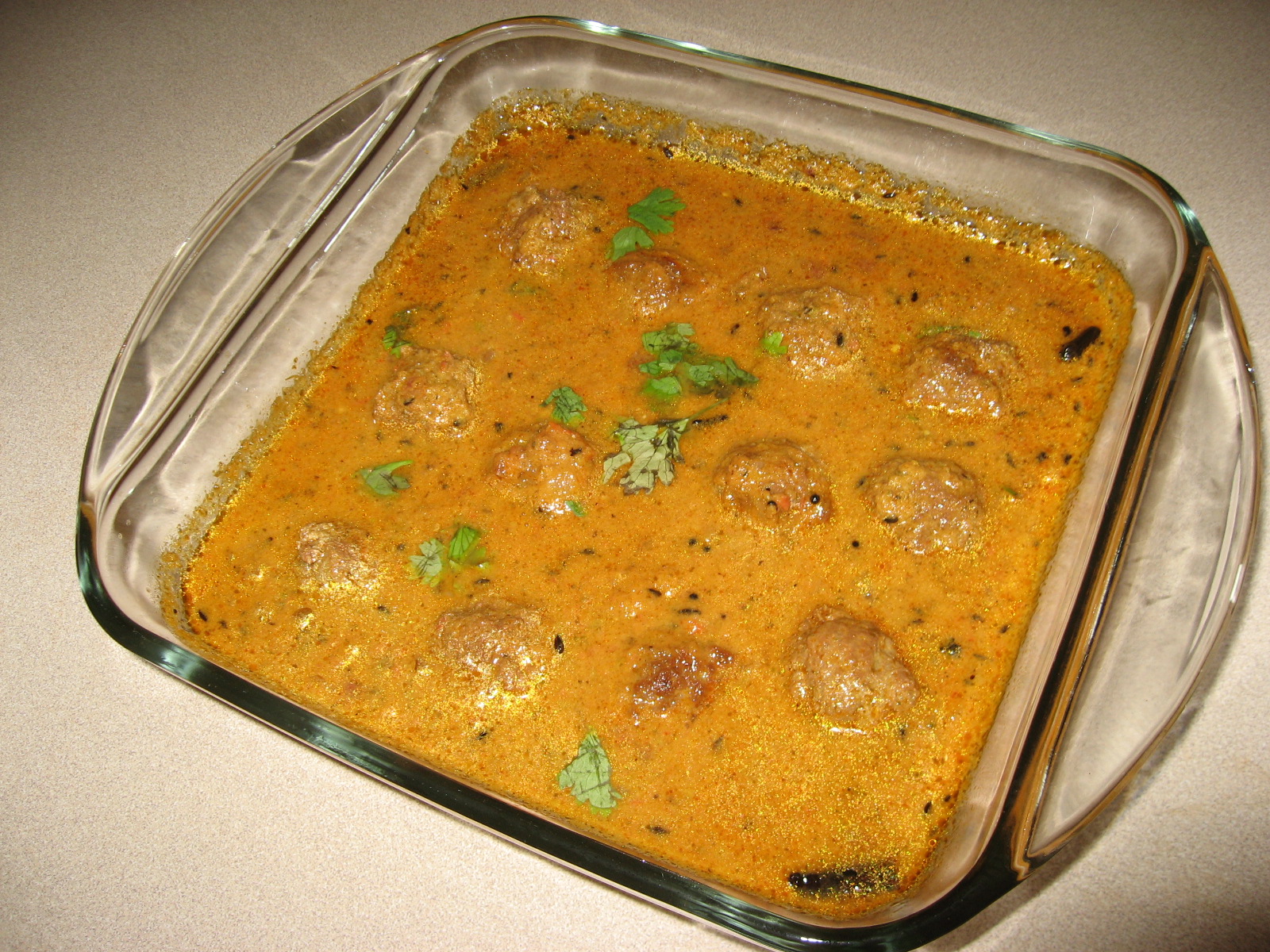 Ingredients
Minced Meat/Lamb - 1 pound/0.5kg

Egg

1

( )

Coriander powder/Dhaniya

1 Teaspoon

( )

Garam masala powder

3/4

( )

Ginger-garlic paste - 1/2 tsp

Black pepper powder

3 Pinch

( )

Turmeric powder

2 Pinch

( )

Juice of lime - 3 tbs

Kasoori methi/dried fenugreek leaves - 1 tbs crushed.

Coriander/Cilantro - few springs finely chopped.

Salt and Chilly powder - to taste.

Tomatoes

3 Medium

( )

Onions

1/2 Cup (16 tbs)

( )

Mint sprig

5

( )

Coriander/ cilantro sprig

5

( )

Garlic – ginger paste

1/2 Teaspoon

( )

Dhaniya powder - 1/2 tsp

Garam masala powder

1/4

( )

Yogurt

3 Tablespoon

( )

Mustard seeds

1/2 Teaspoon

( )

Cumin seeds

1/2 Teaspoon

( )

Salt & Chilly powder - to taste
Directions
To make the koftas/Meat balls:
------------------
Add Dhaniya powder, Garam Masala powder,Ginger-garlic paste, egg,black pepper powder, juice of lime, turmeric powder, chopped kasoori methi, cilantro,salt and chilly powder to the minced meat and mix well.

Mix the meat in all ingredients thoroughly and divide the mixture into small balls. Each kofta (ball) should be the size of a ping pong/table tennis ball(or smaller size).

Deep fry the koftas in oil until they turn brownish. Place on absorbing sheet/paper towel to remove excess oil. Arrange the kofta's in a dish.

For making the Korma/Gravy:
-----------------------
Heat a skillet. Add little oil and fry onions. Add ginger-garlic paste and turmeric powder. Stir and remove once onions turn brownish.

Grind tomatoes, yogurt, mint & cilantro along with fried onions in a blender to make a puree.

Heat 3 tbs oil in a skillet. Add mustard seeds & allow them to splutter. Add cumin seeds.

Add the pureed tomato mixture, dhaniya powder, garam masala powder, salt and chilly powder. Mix well.

Cover and cook for 3 minutes. Remove lid and continue cooking until the gravy thickens or reaches desired consistency.

Pour the gravy over the kofta's (arranged in a dish).

Let it set for at least 5 minutes.

Serve hot with Jeera Rice / Rotis.