»

Recipes

»

Muffin

»

Easy Muffins
Easy Muffins Recipe
Good For You Muffins is easy to make recipe. The cornmeal with cereal mixed with milk and eggs gives the Good For You Muffins a majestic taste. Good For You Muffins is inspired by food joints worldwide.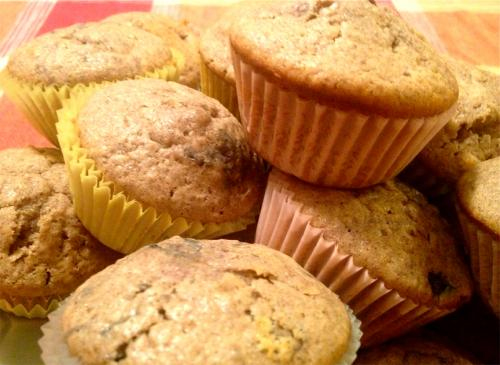 Ingredients
All purpose flour

1 1/2 Cup (16 tbs)

, unbleached

Sugar

1/2 Cup (16 tbs)

Cornmeal

1/4 Cup (16 tbs)

Wheat germ

1/4 Cup (16 tbs)

Baking powder

2 Tablespoon

Salt

1/2 Teaspoon

1 1/2 cups unprocessed bran

1/2 cup granola cereal

Buttermilk

2 Cup (16 tbs)

Vegetable oil

2 1/2 Tablespoon

Peanut butter

2 Tablespoon

Eggs

2

, beaten
Directions
Combine first 6 ingredients in a large bowl; make a well in center of mixture, and set aside.
Combine bran, granola cereal, and buttermilk; stir well, and let stand 5 minutes.
Add oil, peanut butter, and eggs, stirring well.
Add to dry ingredients, stirring just until moistened.
Spoon into greased muffin pans, filling two thirds full.
Bake at 400° for 25 minutes.
Remove from pans immediately.