»

Recipes

»

Golden Corn Bread
Golden Corn Bread Recipe
Corn bread is recipe which goes well with a lot of dishes, mainly the meat dishes. You can serve it soups, chili or plain. It tastes good anytime.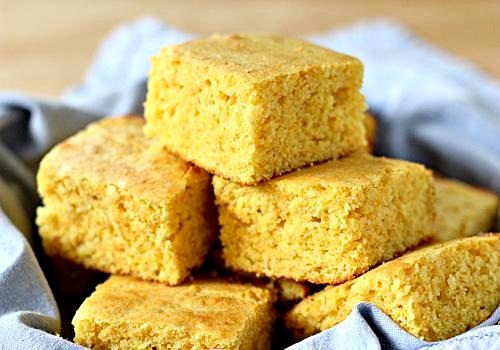 Ingredients
Cornmeal

1 Cup (16 tbs)

All-purpose flour-1 cup, sifted

Sugar

1/4 Cup (16 tbs)

Salt

1/2 Teaspoon

Yellow cornmeal

1 Cup (16 tbs)

Egg

1

Milk

1 Cup (16 tbs)

Shortening-1/4 cup, soft

Onion-1 Iarge, grated
Directions
MAKING
1)In a bowl, sift together cornmeal, flour, sugar, salt and baking powder.
2)In another bowl add egg, milk and shortening.
3)Mix together the two mixtures until just blended.
4)Take a hot well-greased 8-inch square pan or muffin pans and pour the batter.
5)Bake for 20 to 25 minutes at 425 degrees.

SERVING
6)Serve golden corn bread sliced with meat dishes.