»

Recipes

»

Cookie

»

Gold Cookies
Gold Cookies Recipe
These Gold Cookies are a family favorite. The combination of nuts and cinnamon is great!Without too much effort, you can have these cookies ready in just about 45 minutes. Try these and serve it to your near and dear ones.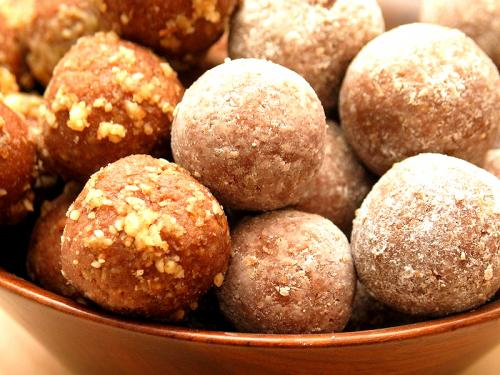 Ingredients
Shortening

1⁄2 Cup (8 tbs)

Sugar

1 1⁄2 Cup (24 tbs)

Egg yolks

4

Milk

2 Tablespoon

Vanilla

1 Teaspoon

Sifted flour

1 1⁄2 Cup (24 tbs)

Baking powder

1⁄2 Teaspoon

Salt

1⁄4 Teaspoon

Nuts

3⁄4 Cup (12 tbs)

, finely-chopped

Cinnamon

2 Teaspoon
Nutrition Facts
Serving size: Complete recipe
Calories 3649 Calories from Fat 1611
% Daily Value*
Total Fat 179 g275.1%
Saturated Fat 41.8 g209%
Trans Fat 13.5 g
Cholesterol 743.3 mg
Sodium 1114.9 mg46.5%
Total Carbohydrates 475 g158.4%
Dietary Fiber 18 g72.1%
Sugars 306.8 g
Protein 53 g106.5%
Vitamin A 18.5% Vitamin C 0.63%
Calcium 58.2% Iron 64.3%
*Based on a 2000 Calorie diet
Directions
GETTING READY
1) Grease a baking sheet.

MAKING
2) Combine the shortening and sugar and cream till light and fluffy.
3) Add in the egg yolks, milk, and vanilla. Beat well.
4) Sift together the flour, baking powder, and salt.
5) Add into the creamed mix and blend well.
6) Refrigerate.
7) Little at a time, roll the dough into walnut-sized balls.
8) Mix together the nuts and cinnamon.
9) Roll balls in the mix.
10) On an ungreased baking sheet, arrange the cookies 3 inches apart.
11) Place in the oven and bake at 400° F for 12 to 15 minutes.

SERVING
12) Serve as a snack.