»

Recipes

»

Indian

»

Gobi Manchurian
Gobi Manchurian Recipe
A simple and easy Gobi Manchurian Recipe.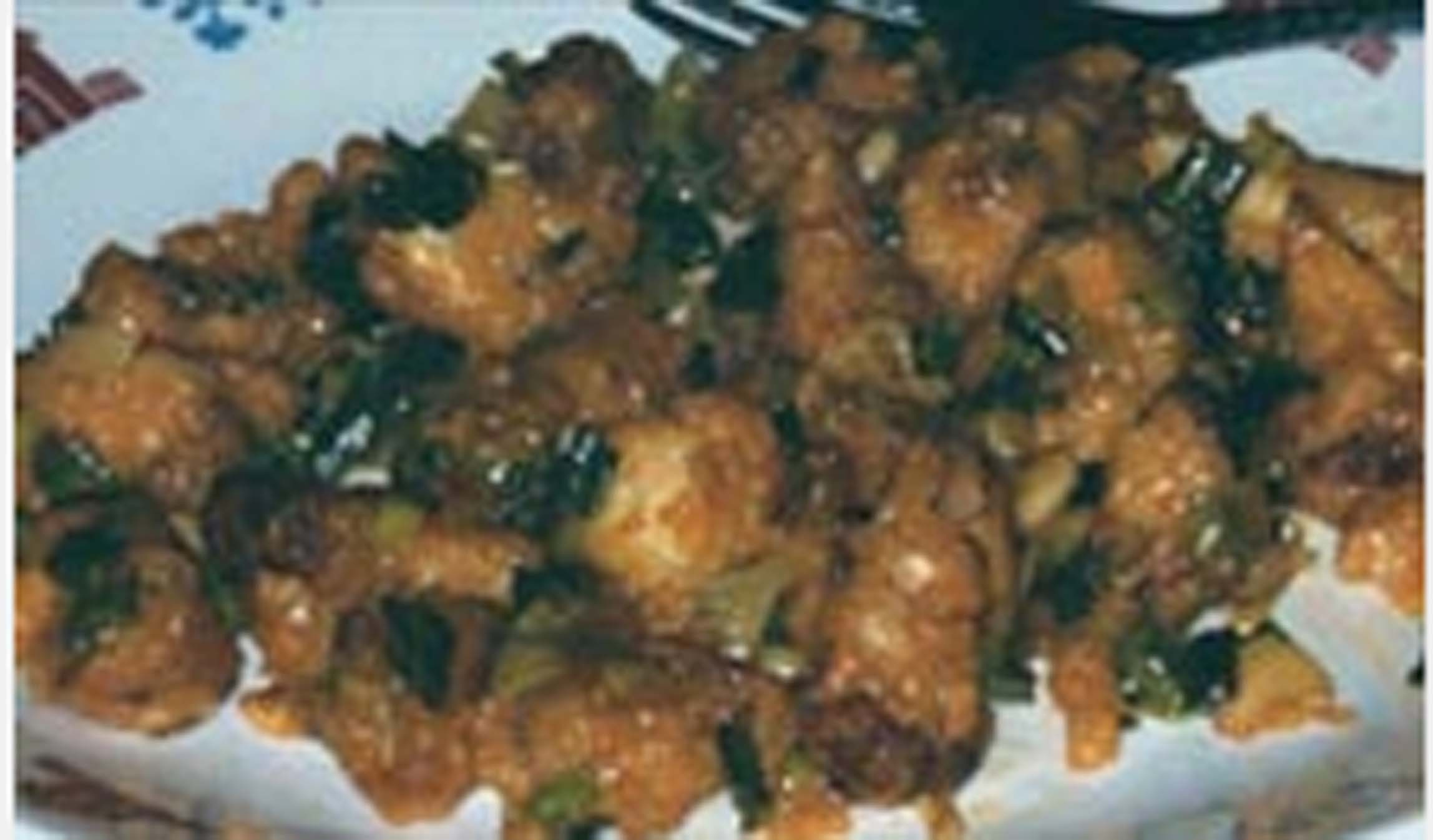 Ingredients
Cauliflower florets

3 Cup (48 tbs)

All purpose flour

1 Cup (16 tbs)

Ginger garlic paste

1 Teaspoon

Green chilli paste

1 Teaspoon

Chopped spring onion

1⁄2 Cup (8 tbs)

Chopped capsicum

1⁄4 Cup (4 tbs)

Chopped garlic

2 Teaspoon

Soy sauce

2 Teaspoon

Tomato ketchup

2 Teaspoon

Chilli sauce

1 Teaspoon

Salt

To Taste

Oil

2 Cup (32 tbs)

(for deep frying)
Nutrition Facts
Serving size
Calories 255 Calories from Fat 106
% Daily Value*
Total Fat 12 g18.4%
Saturated Fat 1.6 g7.8%
Trans Fat 0 g
Cholesterol 0 mg
Sodium 379 mg15.8%
Total Carbohydrates 32 g10.7%
Dietary Fiber 3.3 g13.2%
Sugars 4 g
Protein 5 g10.9%
Vitamin A 8.3% Vitamin C 74.9%
Calcium 3.6% Iron 11.8%
*Based on a 2000 Calorie diet
Directions
Method:

1. Cook cauliflower florets in salted water for 5 minutes. Remove the water and keep aside.
2. Add ginger garlic paste, green chilli paste, salt and water to all-purpose flour to make a batter of medium consistency.
3. Dip the florets in the batter and deep fry in hot oil until golden brown. Remove and drain.
4. Heat 2 tsp of oil in a skillet and sauté spring onions, garlic and capsicum for 5 minutes. Add soya sauce, chilli sauce, tomato ketchup and cook for 2 minutes.
5. Add the florets, mix well and cook for 5 minutes.
6. If gravy is required, add 1 tsp of corn flour mixed in water (1 cup) with out any lumps before adding the florets. Cook for 5 minutes and then add the florets.
Serves: 4
Preparation time: 30-40 minutes

Wow nice Gobi manchurian recipe. I will try this recipe soon.
Posted on:
19 October 2008 - 3:20pm

I always thought manchurian must be really really difficult to make and something which I can never try myself. I did... and surprisingly it turned it just as good. Though it isn't that healthy I presume with deep frying and all... but it was delicious and easy. Thanks for the recipe
Posted on:
18 October 2008 - 3:03am