»

Recipes

»

Indian

»

Punjabi

»

Gobhi Paratha
gobhi paratha Recipe
This is a meal in itself. You can enjoy it any time of the day.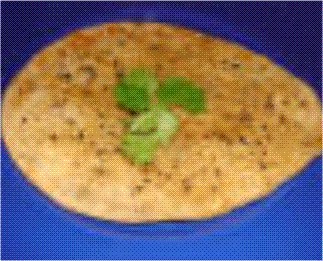 Ingredients
Cauliflower

1

Ginger

1 inch

4 tsp oil and salt to taste

Oil for roasting
Directions
Grate the cauliflower head. There will be fine flowers. Sprinkle with some salt and let it sit for half hour at least.
Prepare a tight dough, add the oil and a little salt to the flour for it.
Press the cauliflower between your plams and squeeze the water out. Keep in a clean dry bowl and repeat with the whole thing.
Now chop the ginger finely and add to the cauliflower.
Make balls out of the dough and using some dry flour roll into a small round. Scoop about a spoon of the cauliflower mixture and place on the round dough. Gather the ends and close the mouth. Can take some dry flour and roll into a round, about 6 inches. Heat a pan and put the rolled flour on it. FLip once you see bumps. Add a tsp of oil and flip again. Press gentle with a spatula and add a half tsp of oil. Flip again and let it sit for a few seconds. Remove from fire and serve.
Repeat with the rest of the mixture and dough.
Best eaten by itself with some butter. You can use some chutney or yogurt too.

mouth watering recipe nice post shakti. I m waiting your next upcoming video recipe please share........ moodyfoody
Posted on:
6 February 2008 - 3:54am