»

Recipes

»

Indian

»

Goan

»

Goan Fish Curry
Goan Fish Curry Recipe
Goan fish curry is an all time favorite with my family. In fact it tastes even more delicious the next day. Do try out this easy to make curry.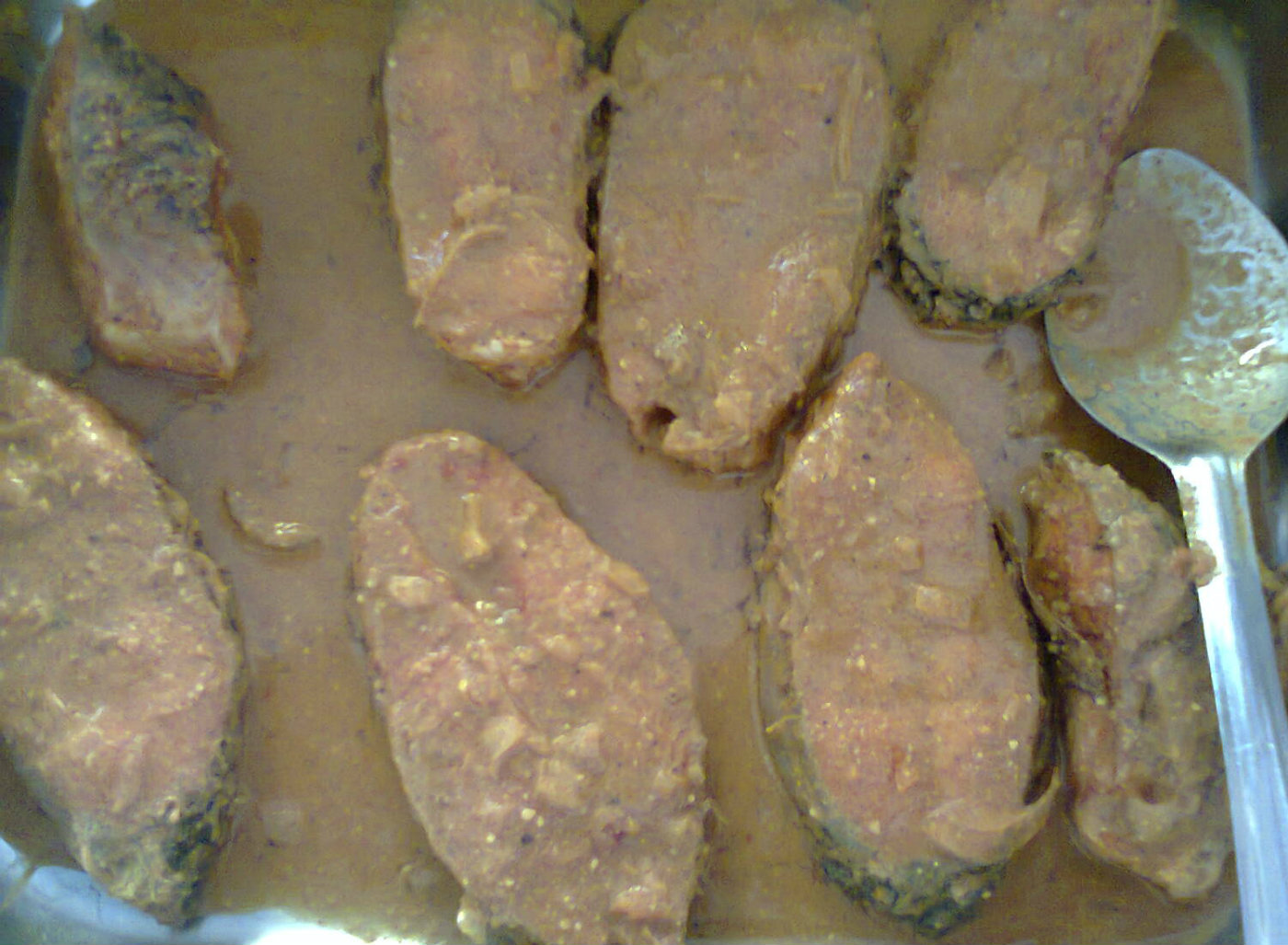 Ingredients
Tuna fish

1⁄2 Kilogram

, cut into thick pieces

Onion

1 Large

, sliced

Tamarind

40 Gram

, soaked in water

Fresh coconut

8 Inch

Coriander seeds

30 Gram

Mustard seeds

1 Teaspoon

Fenugreek seeds

1 Teaspoon

Red chilies

10 Medium

Turmeric powder

1⁄4 Teaspoon

Ginger

1 Inch

Water

2 Cup (32 tbs)

Salt

To Taste

Vegetable oil

2 Tablespoon
Nutrition Facts
Serving size
Calories 377 Calories from Fat 157
% Daily Value*
Total Fat 18 g27.4%
Saturated Fat 4.5 g22.7%
Trans Fat 0 g
Cholesterol 47.5 mg
Sodium 161 mg6.7%
Total Carbohydrates 24 g8.2%
Dietary Fiber 6.8 g27.4%
Sugars 12.2 g
Protein 33 g66%
Vitamin A 64.2% Vitamin C 133.2%
Calcium 10.6% Iron 23.8%
*Based on a 2000 Calorie diet
Things You Will Need
Deep Pot
Spatula
Grinder
Directions
GETTING READY:
1. Wash the fish and keep aside (any white fish of choice can be used)
2. Roast mustard seeds, fenugreek seeds, coriander seeds, peppercorns and red chilies. Roast sliced onion separately. Add ginger, garlic, soaked tamarind along with a little salt to this mixture and grind to a fine paste. Set the masala aside.

MAKING:
3. Heat oil in a kadhai and curry leaves. As they splutter add the ground masala and roast well, till the oil separates from the masala.
4. Add water and boil the content well.
5. Add the washed fish pieces and cook for about 10 mins till the fish is done.

SERVING:
6. Garnish with the chopped coriander leaves and serve the curry hot with plain rice.