»

Recipes

»

Italian

»

Gnocchi

»

Gnocchi In Fontina Sauce
Gnocchi in Fontina Sauce Recipe
Quick and easy white cheese sauce which make the gnocchi melt in your mouth! Very rich and decadent.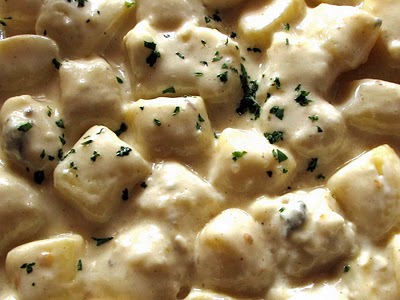 Ingredients
Refrigerated gnocchi

1 Pound

Unsalted butter

6 Tablespoon

Chopped shallots

2 Tablespoon

Fontina cheese

8 Ounce

, cubed

Heavy cream

1⁄3 Cup (5.33 tbs)

Freshly grated parmesan cheese

3 Tablespoon

Chopped fresh basil

1 Tablespoon
Nutrition Facts
Serving size
Calories 768 Calories from Fat 409
% Daily Value*
Total Fat 47 g71.6%
Saturated Fat 29 g145%
Trans Fat 0 g
Cholesterol 151.5 mg
Sodium 999.3 mg41.6%
Total Carbohydrates 62 g20.7%
Dietary Fiber 3.8 g15.2%
Sugars 2.3 g
Protein 26 g52%
Vitamin A 34.2% Vitamin C 58.6%
Calcium 48.9% Iron 9.5%
*Based on a 2000 Calorie diet
Directions
1. Bring a large pot of lightly salted water to a boil. Add the gnocci, and cook until tender, about 5 minutes. Drain, and set aside.

2. Once the gnocci goes into the pot, start the sauce, as you want the gnocci to be done first. Melt the butter in a saucepan over medium heat. Add the shallots, and cook for a few minutes, until tender. Stir in the cream, and heat to almost a boil. Gradually mix in the fontina and parmesan cheeses, being careful not to boil. Stir until smooth, then remove from the heat immediately, or the sauce may clump.

3. Place gnocci into serving dishes, and spoon the sauce over them. Garnish with chopped fresh basil.

tempe thai food says :
That's easy to make. Ingredients are easy to find.
Posted on:
4 March 2010 - 2:17am