»

Recipes

»

Chowder

»

Gloucester Fish Chowder
Gloucester Fish Chowder Recipe
Wish to surprise your guests with something extraordinary?. Well, this Gloucester Fish Chowder is all set to perk-up the meal this time. Equally popular with children and adults, this Gloucester Fish Chowder is simply irresistable to make them go drooling!
Gloucester Fish Chowder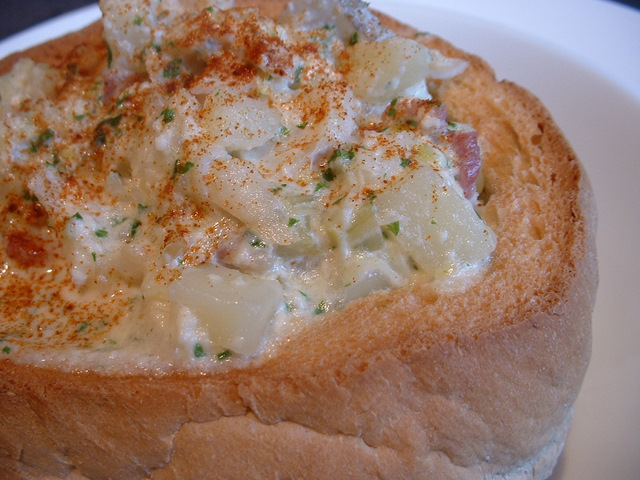 Ingredients
Haddock fillets

1 pound

Flour

1/2 Cup (16 tbs)

Salt

1/2 Teaspoon

Salt pork

1/2 Cup (16 tbs)

, cubed

Small onion

1

Water

1 1/3 Cup (16 tbs)

A few celery leaves

Potato

1 Large

, diced

Hot milk - 1 1/2 cups

Butter/Margarine

1 Tablespoon
Directions
GETTING READY
1. Wash the fish and then cut the fish fillets into cubes.

MAKING
2. In a large pan, fry the salt pork until brown and starts giving off fat.
3. Remove the pork from the kettle and add onions to the pan to brown onion in fat.
4. Combine flour and salt and dredge fish with it.
Add fish, water, celery leaves and potato to the pan and cover and simmer until vegetables are tender.
Add milk, butter or margarine, and additional seasonings if necessary.

SERVING
5. Heat through and serve with crackers.