»

Recipes

»

Apple

»

Glazed Apples 'N Franks
Glazed Apples 'N Franks Recipe
Glazed apples and franks is a cooked dessert prepared in a skillet. Made with quartered tart apples, the glazed apples and franks are cooked till apples are fork tender and served with pan juices as a dessert. The glazed apples may be served with light cream too.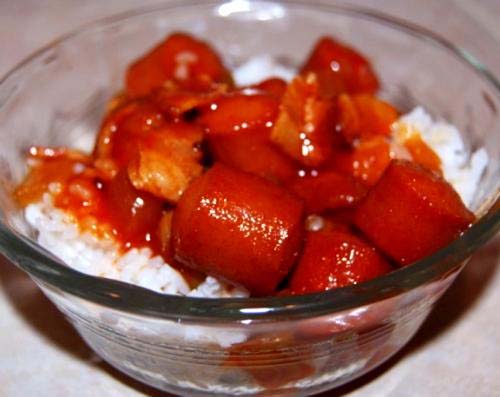 Ingredients
Butter/Margarine

1 Tablespoon

Prepared mustard

2 Teaspoon

Light corn syrup

1⁄4 Cup (4 tbs)

Frankfurters

4

Tart apples

2

, cored pared and quartered
Nutrition Facts
Serving size
Calories 548 Calories from Fat 278
% Daily Value*
Total Fat 31 g47.7%
Saturated Fat 12.9 g64.7%
Trans Fat 0 g
Cholesterol 84.8 mg
Sodium 932.7 mg38.9%
Total Carbohydrates 54 g17.9%
Dietary Fiber 2.5 g10.1%
Sugars 26.2 g
Protein 14 g27.2%
Vitamin A 9.3% Vitamin C 355.1%
Calcium 37.9% Iron 21.8%
*Based on a 2000 Calorie diet
Directions
In skillet, melt butter; blend in mustard and corn syrup.
Add franks and apples.
Cover; cook over low heat 10 to 15 minutes or till apples are tender, turning once.
Serve over rice, if desired.
Pass pan juices.