»

Recipes

»

Cookie

»

Gingy-choky Cookie
Gingy-choky cookie Recipe
This recipe is tried and tested and was a successful attempt by my sweetheart since I was on a diet! It is easy and simple to follow.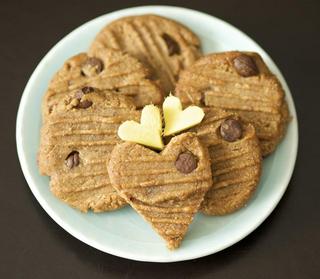 Recipe Story
This Valentines try out a health freak ginger cookie..it is delicious!! thanks honey!
Ingredients
Almond butter

125 Milliliter

, mix, if separated (1/2 Cup)

Cinnamon

2 Teaspoon

, ground

Ginger

15 Milliliter

, ground (1 Tablespoon)

Almond meal

500 Milliliter

(2 Cups)

Ground flax meal

15 Milliliter

(1 Tablespoon)

Honey

90 Milliliter

(6 Tablespoon)

Pure vanilla extract

1 Teaspoon

Dark chocolate chips

60 Milliliter

(1/4 Cup, 70 Percent Fair Trade And Organic, If Possible)

Fresh ginger

15 Milliliter

, grated finely (1 Tablespoon)
Nutrition Facts
Serving size
Calories 90 Calories from Fat 53
% Daily Value*
Total Fat 6 g9.5%
Saturated Fat 0.5 g2.5%
Trans Fat 0 g
Cholesterol 0.06 mg0.02%
Sodium 9.5 mg0.4%
Total Carbohydrates 7 g2.3%
Dietary Fiber 0.8 g3.2%
Sugars 4 g
Protein 2 g4.3%
Vitamin A 0% Vitamin C 0.22%
Calcium 1.9% Iron 1.4%
*Based on a 2000 Calorie diet
Directions
1.Preheat the oven to 350°F (175°C).
2. Place all the ingredients into a bowl and stir to thoroughly combine.
3. Roll the dough by hand into 1 inch (2 cm) balls and lightly press down with a fork.
4. Place the cookies on a parchment-lined baking sheet.
5. Bake 10 to 12 minutes, or until golden. The cookies will become stiff as they cool.
6. Store in an airtight container.
Makes 24 cookies.