»

Recipes

»

Soup

»

Gingered Chicken Soup With Papaya
Gingered Chicken Soup With Papaya Recipe
You'll simply love this Gingered Chicken Soup With Papaya recipe. A delicious Gingered Chicken Soup With Papaya will surely tempt you to prepare this recipe again and again.
Gingered Chicken Soup With Papaya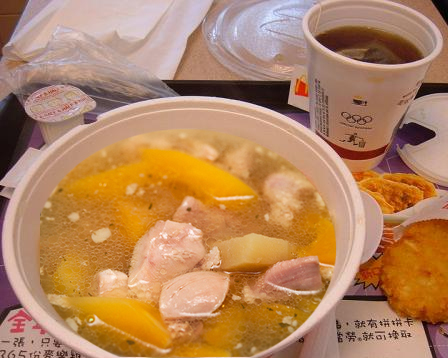 Ingredients
Chicken breasts

2 Pound

, skinned (Skinned And Boned)

Salt

1 Teaspoon

Pepper white

1⁄2 Teaspoon

Lime juice

1 Tablespoon

Oil

2 Tablespoon

Chopped onion

3⁄4 Cup (12 tbs)

Garlic

2 Clove (10 gm)

, minced

Minced ginger root

4 Teaspoon

Water

3 Cup (48 tbs)

Papaya

1 Pound

, peeled, seeded, and cut into 1-inch pieces (1 Small Sized One)
Nutrition Facts
Serving size: Complete recipe
Calories 1530 Calories from Fat 375
% Daily Value*
Total Fat 42 g65%
Saturated Fat 7.2 g36%
Trans Fat 0.2 g
Cholesterol 526.2 mg
Sodium 2550.8 mg106.3%
Total Carbohydrates 66 g21.8%
Dietary Fiber 11.5 g46.1%
Sugars 32.5 g
Protein 215 g429.8%
Vitamin A 103.3% Vitamin C 515.5%
Calcium 26.7% Iron 44%
*Based on a 2000 Calorie diet
Directions
Lightly pound the chicken breasts, then cut them into bite-sized pieces.
Season all sides with salt, pepper, and lime juice.
Set aside briefly.
Pour oil into a heavy frying pan and place over medium-high heat.
When the oil is hot, add the onion and garlic.
Saute, stirring constantly, until onions are golden and garlic is crisp.
Add the chicken and minced ginger.
Continue sauteeing, stirring constantly, until chicken has whitened.
Transfer sauteed ingredients to a saucepan and add 3 cups water.
Bring soup to a boil, cover, lower the heat, and simmer until chicken is tender, about 15 minutes.
When chicken is tender, add the diced papaya and simmer 5 to 6 minutes longer.
Correct seasonings, to taste.