»

Recipes

»

Gingerbread Crepes
Gingerbread Crepes Recipe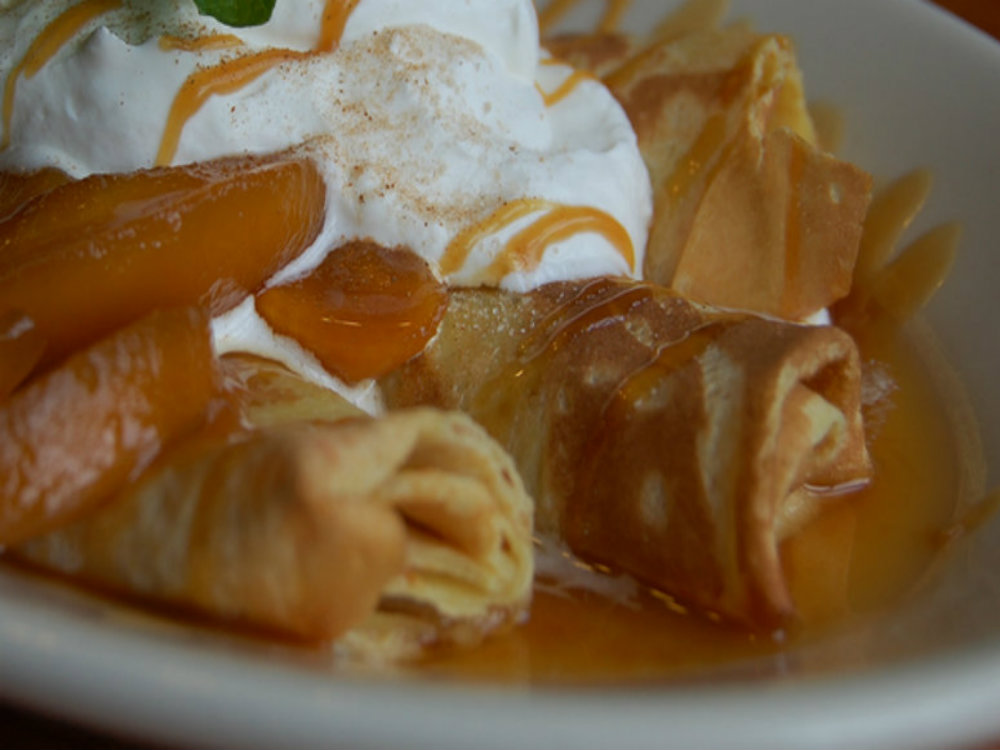 Ingredients
For crepes

All purpose flour

1 Cup (16 tbs)

Sugar

2 Tablespoon

Powdered ginger

1 Teaspoon

Ground cinnamon

1 Teaspoon

Ground cloves

1 Pinch

Milk

1⁄3 Cup (5.33 tbs)

Eggs

2

Molasses

1⁄4 Cup (4 tbs)

Butter

1 Tablespoon

, melted

Apple filling

1 Cup (16 tbs)

Butter

1⁄4 Cup (4 tbs)

Apples

3 Large

, peeled, cored, and sliced

Hot water

1⁄2 Cup (8 tbs)

Sugar

1⁄4 Cup (4 tbs)

Ground cinnamon

1 Tablespoon

(Or To Taste)

Unsweetened whipped cream

1 Tablespoon

Chopped walnuts

1 Tablespoon
Nutrition Facts
Serving size: Complete recipe
Calories 2452 Calories from Fat 744
% Daily Value*
Total Fat 84 g129.6%
Saturated Fat 43 g215%
Trans Fat 0 g
Cholesterol 586.7 mg
Sodium 347.1 mg14.5%
Total Carbohydrates 413 g137.6%
Dietary Fiber 33.3 g133.3%
Sugars 229.2 g
Protein 34 g68.5%
Vitamin A 56% Vitamin C 55.8%
Calcium 61.8% Iron 88.5%
*Based on a 2000 Calorie diet
Directions
FOR THE CREPES, combine the flour, sugar, ginger, cinnamon, and cloves in a large bowl.
In another bowl, combine the milk, eggs, molasses, and melted butter.
Make a shallow well in the center of the dry mixture, add the wet mixture, and stir gendy just until well combined.
HEAT ABOUT 2 TEASPOONS butter in a crepe pan or small skillet, preferably nonstick, over medium heat.
Add about 3/4 cup of the crepe batter, tilting the pan so it evenly covers the bottom.
Cook until the top is set and the edges begin to brown, 1 to 2 minutes.
Turn the crepe and continue cooking just until the other side is lightly browned, about 1 minute longer.
Turn the crepe onto a plate and continue with the remaining batter, adding more butter as necessary.
Put a piece of waxed paper or plastic wrap over each crepe to make them easier to separate later.
The crepes can be made a day in advance and refrigerated, covered.
FOR THE APPLE FILLING, melt the butter in a large skillet, add the apple slices, and cook, stirring, until they are well coated in butter, 1 to 2 minutes.
Add the water, sugar, and cinnamon and continue cooking, uncovered, until the apples are tender but not mushy, 12 to 15 minutes longer.
The sauce should be syrupy; add a little more water if needed.
TO ASSEMBLE THE CREPES, reheat them, if necessary, in a low oven.
Lay some of the apple slices down the center of each crepe and roll it up.
Arrange 2 filled crepes on each plate and drizzle with a litde of the sauce from the apples.
Top the crepes with a dollop of whipped cream and a sprinkle of chopped walnuts.
Serve immediately.
Image Courtesy :
http://www.flickr.com/photos/stuart_spivack/2505289727/