»

Recipes

»

Cookie

»

Ginger Honey Cookies
Ginger Honey Cookies Recipe
Ginger honey is a great combination for better respiratory health. When this combination in infused into a cookie, it results into a spicy-sweet delicious cookies. Ginger honey cookies are always appreciated by everyone and no one can resist.
Chewy Ginger Cookies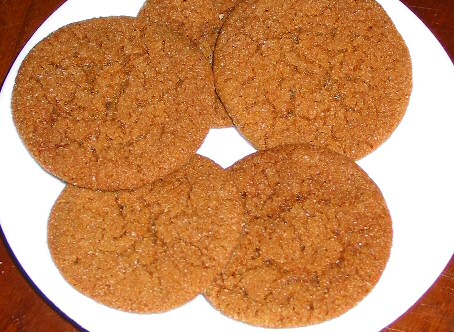 Ingredients
Shortening

1⁄2 Cup (8 tbs)

Sugar

1⁄2 Cup (8 tbs)

Honey

1⁄2 Cup (8 tbs)

Egg

1

All purpose flour

2 Cup (32 tbs)

, sifted

Salt

1⁄2 Teaspoon

Ginger

1 Teaspoon

Cinnamon

1 Teaspoon

Baking soda

1 Teaspoon

Egg white

1

, slightly beaten

Salted blanched peanuts

3⁄4 Cup (12 tbs)

, finely chopped
Nutrition Facts
Serving size
Calories 194 Calories from Fat 91
% Daily Value*
Total Fat 11 g16.3%
Saturated Fat 2.2 g10.8%
Trans Fat 0.7 g
Cholesterol 10.6 mg
Sodium 161.3 mg6.7%
Total Carbohydrates 23 g7.6%
Dietary Fiber 1.3 g5.2%
Sugars 11.6 g
Protein 3 g6.6%
Vitamin A 0.3% Vitamin C 0.17%
Calcium 1.6% Iron 5.4%
*Based on a 2000 Calorie diet
Directions
MAKING
1)In a bowl, beat together shortening, sugar and honey until light and fluffy.
2)Add egg and beat well.
3)In another bowl, sift together flour, salt, ginger, cinnamon and soda.
4)Add to shortening mixture and mix well.
5)Take a greased baking sheet and drop spoonsful of batter on it.
6)Flatten the cookies with bottom of a glass and brush with beaten egg white.
7)Sprinkle chopped peanuts.
8)Bake at 350 degrees for 12 to 15 minutes.

SERVING
9)Serve the ginger honey cookies at the snack time.