»

Recipes

»

Waffle

»

Ginger Waffles
Ginger Waffles Recipe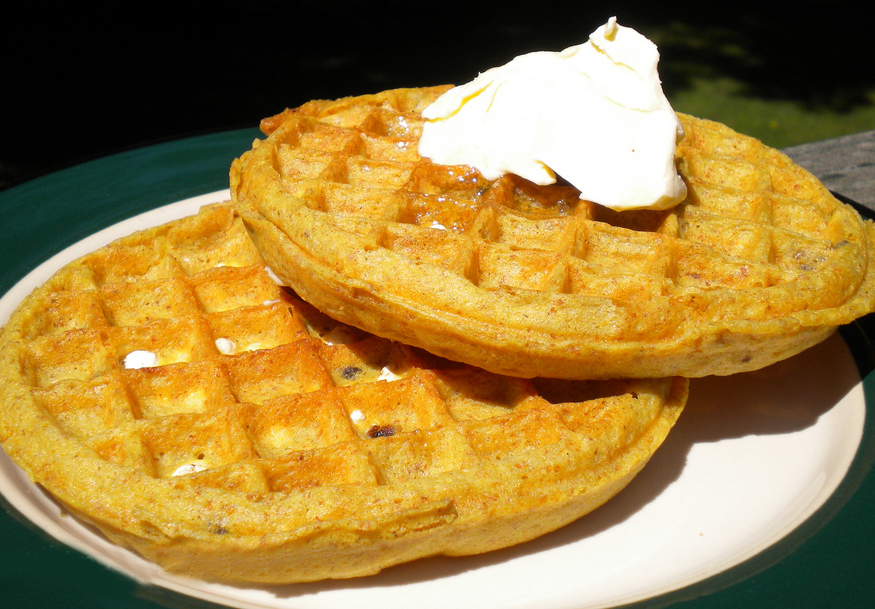 Ingredients
Unsifted all purpose flour

1 1⁄2 Cup (24 tbs)

Baking powder

1 1⁄2 Teaspoon

Baking soda

1⁄2 Teaspoon

Ground ginger

1 Teaspoon

Ground cinnamon

1 Teaspoon

Ground nutmeg

1⁄4 Teaspoon

Buttermilk

1 Cup (16 tbs)

Eggs

2

, beaten

Melted butter/Margarine

1⁄4 Cup (4 tbs)

Molasses

1 Tablespoon

Firmly packed dark brown sugar

1⁄4 Cup (4 tbs)
Nutrition Facts
Serving size: Complete recipe
Calories 1566 Calories from Fat 512
% Daily Value*
Total Fat 58 g89.4%
Saturated Fat 31.6 g157.8%
Trans Fat 0 g
Cholesterol 539.1 mg
Sodium 1433.5 mg59.7%
Total Carbohydrates 220 g73.5%
Dietary Fiber 8.6 g34.5%
Sugars 55.3 g
Protein 42 g84.4%
Vitamin A 37.2% Vitamin C 0.96%
Calcium 73.5% Iron 72.9%
*Based on a 2000 Calorie diet
Directions
1. In a mixing bowl, combine the flour, baking powder, baking soda, ginger, cinnamon, and nutmeg. Stir in the buttermilk, eggs, butter, molasses, and brown sugar, and mix until smooth.
2. Cook the waffles in a waffle iron according to manufacturer's directions. You should get 4 large (8"x8") waffles, and they should take about 5 minutes each to cook.
3. Serve with whipped cream.
Image Courtesy :
http://www.flickr.com/photos/theimpulsivebuy/7172027913/