»

Recipes

»

Beet

»

Ginger Pickled Beets
Ginger Pickled Beets Recipe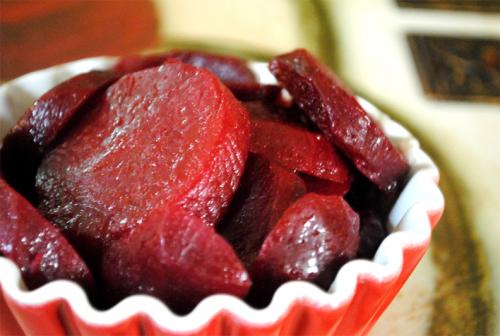 Summary
Difficulty Level
Easy
Health Index
Average
Ingredients
| | | |
| --- | --- | --- |
| | Cooked beets | 15 |
| | Vinegar | 3 Cup (48 tbs) |
| | Prepared horseradish | 2 Tablespoon |
| | Sugar | 2 Tablespoon |
| | Ground mace | 1 Teaspoon |
| | Ground ginger | 1 Teaspoon |
| | Ground cloves | 1⁄2 Teaspoon |
Nutrition Facts
Serving size: Complete recipe
Calories 309 Calories from Fat 22
% Daily Value*
Total Fat 3 g4%
Saturated Fat 0.74 g3.7%
Trans Fat 0 g
Cholesterol 0 mg
Sodium 120.3 mg5%
Total Carbohydrates 41 g13.8%
Dietary Fiber 3.5 g13.9%
Sugars 32.9 g
Protein 1 g2.6%
Vitamin A 1.2% Vitamin C 18.2%
Calcium 9.5% Iron 10.2%
*Based on a 2000 Calorie diet
Directions
Leave small beets whole and slice large beets.
Place the beets in a hot, sterilized quart jar or 2 pint jars.
Combine the vinegar and 1 cup water with remaining ingredients in a saucepan.
Bring to boiling point and boil for 2 minutes.
Pour over beets to within 1/2 inch of top of jar.
Seal the jars and let stand for 24 hours before serving.