»

Recipes

»

Ginger Caramel Sauce
Ginger Caramel Sauce Recipe
Ginger Caramel Sauce is a mouth watering dessert recipe. I am sure this tasty and irresistible Ginger Caramel Sauce will get you a lot of compliments!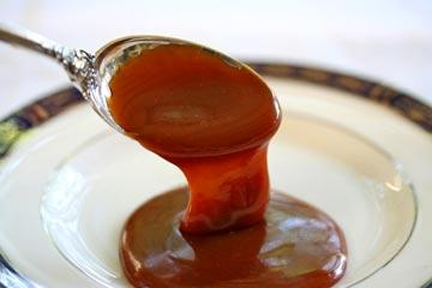 Ingredients
Brown sugar

1 1/4 Cup (16 tbs)

Light corn syrup

2/3 Cup (16 tbs)

1 tablespoon syrup from preserved ginger

Butter

1/4 Cup (16 tbs)

Heavy cream

1/2 Cup (16 tbs)

Chopped ginger

4 Tablespoon

, preserved

Vanilla extract

1/2 Teaspoon
Directions
1. Combine the sugar, corn syrup, ginger syrup and butter in a saucepan and stir over low heat until the sugar has dissolved. Continue cooking until the mixture forms a firm ball in cold water (242° F. on a candy thermometer).
2. Remove the syrup from the heat and add the cream, chopped ginger and vanilla. Cool. This sauce is recommended for vanilla and coffee ice cream.