»

Recipes

»

Salad

»

Ginger Beef Salad
Ginger Beef Salad Recipe
This easy, Asian-inspired salad is best for using up the extra Coriander-Dusted Roast Beef.
Picture Credit: Yunhee Kim
Recipe By: Grace Parisi
Pairing Notes: Berry-rich, medium-bodied rosé
For more recipes, please visit Foodandwine.com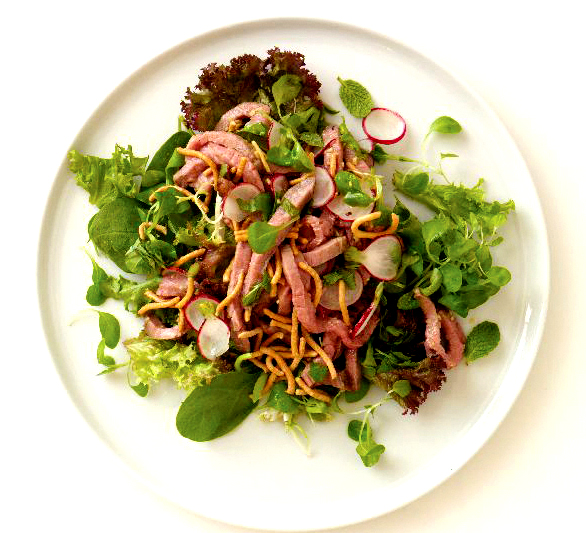 Summary
Difficulty Level
Very Easy
Health Index
Healthy
Ingredients
Rice vinegar

2 Tablespoon

Asian fish sauce

2 Tablespoon

Canola oil

2 Tablespoon

Minced fresh ginger

1 1⁄2 Tablespoon

Sugar

1 Tablespoon

Coriander dusted beef roast/12 ounces roast beef

1⁄2

, shredded

Mixed greens

12 Ounce

(8 Cups)

Dried chow mein noodles

1 Cup (16 tbs)

, dried

Radishes

6

, thinly sliced

Chopped cilantro

1⁄4 Cup (4 tbs)

Chopped mint

1⁄4 Cup (4 tbs)
Directions
In a large bowl, whisk the vinegar with the fish sauce, canola oil, ginger and sugar. Add the shredded beef, mixed greens, dried noodles, radishes, cilantro and mint and toss. Serve right away.