»

Recipes

»

Jewish
Gefilte Fish Recipe
Gefilte fish is a ground fish balls recipe. Cooked in fish stock the fish balls made with a fish of choice along witg carrots is seasoned and can be served with noodles or over rice.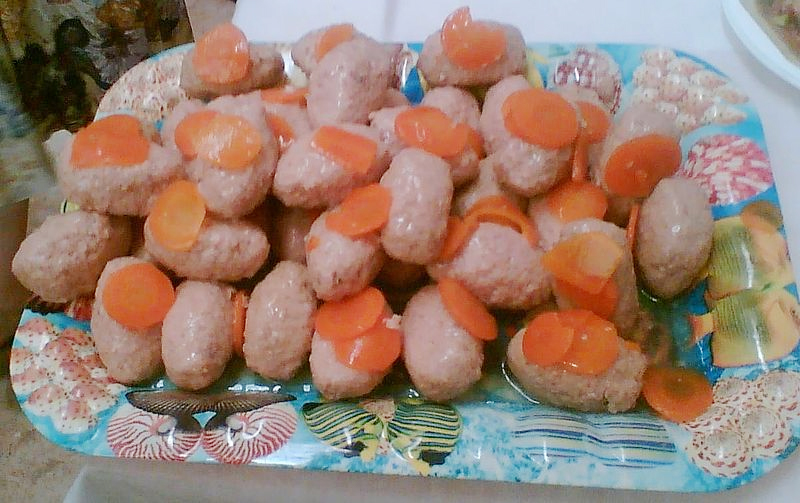 Ingredients
Celery stalk

1

, sliced

Matzo meal

2 Tablespoon

Carrots

3

, sliced

Eggs

3

, well beaten

Onions

4

, sliced

Fish fillets

5 Pound

(Plus Trimmings)

Pepper

To Taste

Salt

To Taste
Nutrition Facts
Serving size: Complete recipe
Calories 2625 Calories from Fat 583
% Daily Value*
Total Fat 66 g101.5%
Saturated Fat 5 g24.8%
Trans Fat 0 g
Cholesterol 2134.5 mg
Sodium 2786.6 mg116.1%
Total Carbohydrates 95 g31.7%
Dietary Fiber 16.1 g64.4%
Sugars 33.8 g
Protein 430 g859.8%
Vitamin A 629.8% Vitamin C 87.7%
Calcium 148.2% Iron 25.2%
*Based on a 2000 Calorie diet
Directions
Work fish fillets through the finest blade of a food grinder and set aside.
Put fish heads, bones, and trimmings in a large kettle along with 3 onions, celery, carrots, salt, pepper, and enough water to cover.
Cook to the boiling point, then simmer.
Grate the remaining onion very fine and combine with eggs.
Mix thoroughly with the ground fish, adding the matzo meal, a little more salt and pepper, and 4 tablespoons of water.
Shape into balls and drop into the simmering fish broth.
Make certain broth is barely bubbling, then cover, and cook 2 hours.
Cool right in the broth, then transfer to a serving platter.
Use the cooked carrots for garnish.
Strain the broth and refrigerate until jellied.
Image Courtesy :
http://id.wikipedia.org/wiki/Gefilte_fish