»

Recipes

»

French

»

Gateau Saint Honore
Gateau Saint Honore Recipe
This Gateau Saint Honore is just as srumptious as it is easy to make. Why not give this Gateau Saint Honore a try this season and impress your guests the way they never expected.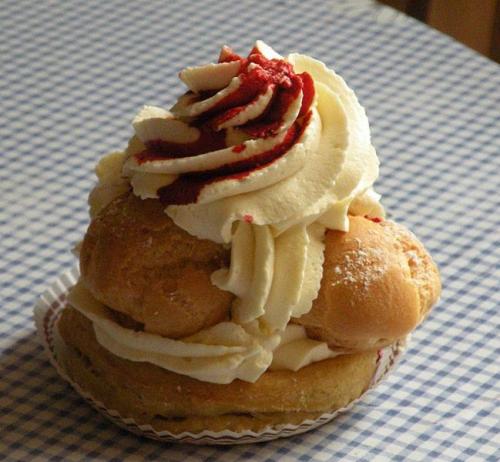 Ingredients
| | | |
| --- | --- | --- |
| | Egg yolk | 1 |
| | Milk | 1⁄2 Tablespoon |
Nutrition Facts
Serving size
Calories 9 Calories from Fat 6
% Daily Value*
Total Fat 0.7 g1.1%
Saturated Fat 0.26 g1.3%
Trans Fat 0 g
Cholesterol 31 mg
Sodium 1.7 mg0.1%
Total Carbohydrates 0.16 g0.05%
Dietary Fiber 0 g
Sugars 0.1 g
Protein 0.44 g0.87%
Vitamin A 0.7% Vitamin C
Calcium 0.5% Iron 0.38%
*Based on a 2000 Calorie diet
Directions
MAKING
1)In a bowl, sift together flour, salt and sugar.
2)Add butter and cut with a pastry blender or 2 knives.
3)Add just enough cold water to make dough.
4)Make a ball and roll out on a lightly-floured board into a circle about 9 inches in diameter.
5)Take a cookie sheet and put the dough cake on it.
6)Put half of the cream puff pastry in a pastry bag fitted with a plain tube.
7)Now, make an edge around the dough about 1/2 inch thick.
8)In a bowl, add egg yolk and milk and beat.
9)Brush top of cream puff paste with this mixture.
10)Bake at 425 degrees for about 20 to 25 minutes, or until cream puff edge is puffed and browned.
11)On a baking sheet, make puffs with the cream puff pastry of about the size of large walnuts.
12)Brush puffs with egg yolk and milk.
13)Bake at 425 degrees for 20 to 25 minutes until puffed and browned.

SERVING
14)Serve the cake on special occasions like birthdays.