»

Recipes

»

Dip

»

Garlic Cheese Dip
Garlic Cheese Dip Recipe
Try out this new Garlic Cheese Dip as a cracker or vegetable sticks spread ! You'll fall for this irresistible cheese garlic and sour cream relish badly ! Tell me what you think about it ! Your suggestions for this Garlic Cheese Dip are welcome !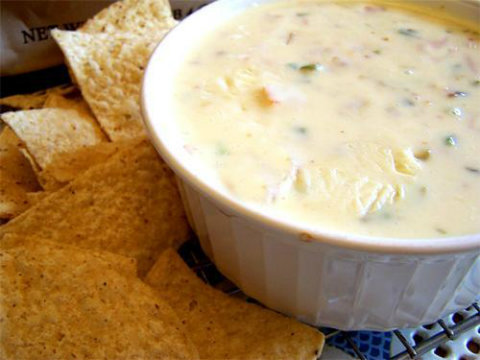 Ingredients
Dairy sour cream

2 Cup (32 tbs)

(16 Ounce Carton)

Cheese garlic salad dressing mix

1 Ounce

Dried parsley flakes

1⁄2 Teaspoon
Nutrition Facts
Serving size
Calories 497 Calories from Fat 444
% Daily Value*
Total Fat 50 g77.6%
Saturated Fat 27.5 g137.3%
Trans Fat 0 g
Cholesterol 124.6 mg
Sodium 314.6 mg13.1%
Total Carbohydrates 11 g3.6%
Dietary Fiber 0.38 g1.5%
Sugars 10.1 g
Protein 5 g10.1%
Vitamin A 29% Vitamin C 6%
Calcium 27.1% Iron 9%
*Based on a 2000 Calorie diet
Directions
Combine all ingredients in a small bowl, chill several hours to blend flavors, then serve with crackers or crisp vegetable sticks.