»

Recipes

»

Garlic
Garlic Butter Recipe
This garlic butter adds awesome flavor to a wide selection of vegan delicacies. Nutmeg and parsley imparts a unique taste to this garlic butter which is flavored using salt and pepper.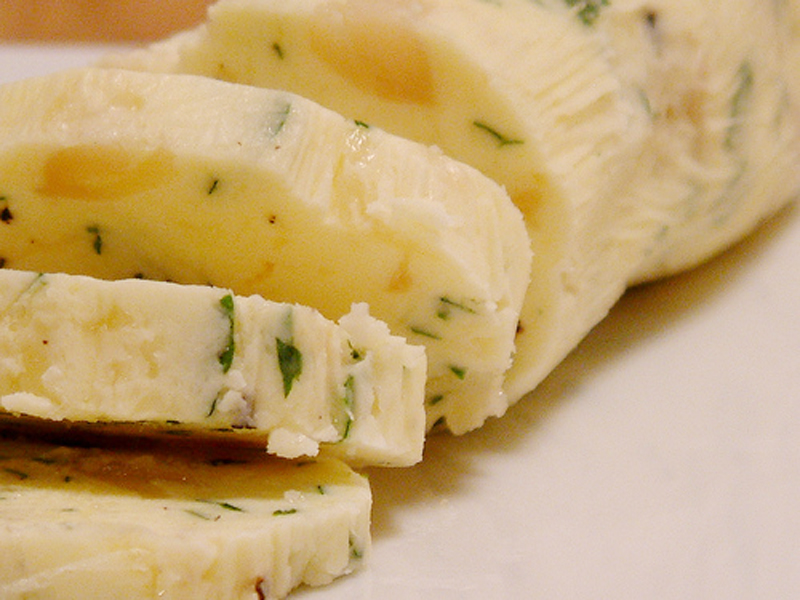 Ingredients
Butter

7 Ounce

Nutmeg

1 Pinch

Parsley

2 Tablespoon

, chopped (handful)

Garlic

1 Clove (5 gm)

Salt

To Taste

Pepper

To Taste
Nutrition Facts
Serving size: Complete recipe
Calories 1445 Calories from Fat 1419
% Daily Value*
Total Fat 161 g248.5%
Saturated Fat 102.2 g510.8%
Trans Fat 0 g
Cholesterol 426.7 mg
Sodium 435.9 mg18.2%
Total Carbohydrates 4 g1.4%
Dietary Fiber 1.3 g5.1%
Sugars 0.6 g
Protein 3 g5.9%
Vitamin A 149.8% Vitamin C 69.1%
Calcium 10% Iron 11.2%
*Based on a 2000 Calorie diet
Directions
MAKING
1. Put garlic through press and take it in a bowl to which butter has been added. Mix well.
2. Add chopped parsley.
3. Add vegetable salt and pepper and nutmeg. Mix it well.

SERVING
4. Serve Garlic Butter with chopped shallot and a few chopped mushrooms cooked in butter for a few minutes. This makes a delicious dressing. Always use freshly made Garlic Bread. It is also used for brushing vegetables for casserole dishes.