»

Recipes

»

Burger

»

Garlic-Basil Burgers
Garlic-Basil Burgers Recipe
The microwave makes burgers for two super easy.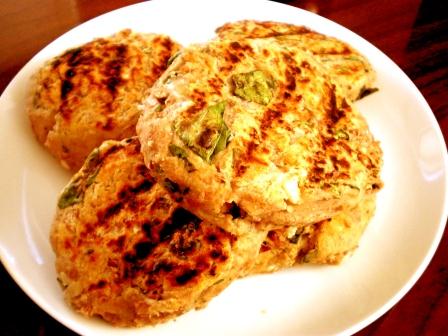 Ingredients
Lean ground beef

1⁄2 Pound

Dry bread crumbs

2 Tablespoon

(Progresso)

Lemon juice

1 Teaspoon

Salt

1⁄4 Teaspoon

Pepper

1⁄8 Teaspoon

Dried basil leaves

1⁄4 Teaspoon

Green onions

2 Tablespoon

, chopped (2 medium sized)

Garlic

1 Clove (5 gm)

, finely chopped

Bacon slices

2
Nutrition Facts
Serving size
Calories 258 Calories from Fat 94
% Daily Value*
Total Fat 11 g16.4%
Saturated Fat 4 g19.9%
Trans Fat 0 g
Cholesterol 66.7 mg
Sodium 458.2 mg19.1%
Total Carbohydrates 13 g4.4%
Dietary Fiber 1.5 g6.1%
Sugars 1.4 g
Protein 26 g52%
Vitamin A 13.2% Vitamin C 15.3%
Calcium 5.5% Iron 18.4%
*Based on a 2000 Calorie diet
Directions
1. Mix all ingredients except bacon. Shape mixture into 2 patties, about 3/4 inch thick. Place on microwavable rack in rectangular microwavable dish, 11x7x1 1/2 inches. Cover with waxed paper and microwave on High 2 minutes 45 seconds to 4 minutes or until just slightly pink in center. Remove from rack; let stand about 3 minutes or until burgers are no longer pink in center and juice is clear.

2. While burgers are standing, place bacon on rack in same dish. Cover with waxed paper and microwave on High 1 minute 30 seconds to 2 minutes 30 seconds or until almost crisp; drain on paper towel. Cut bacon slices in half; place on patties.