»

Recipes

»

Crouton
Garlic Croutons Recipe
Garlic Croutons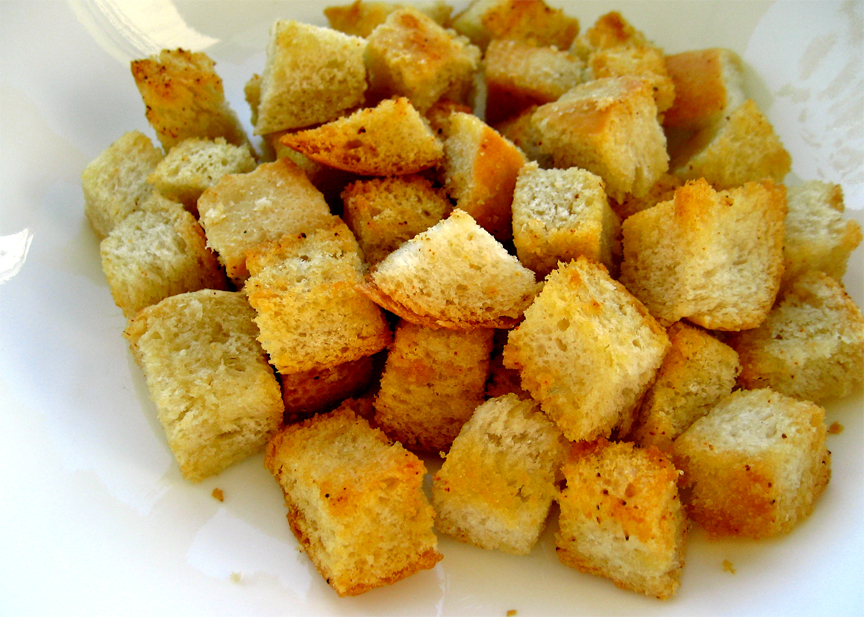 Ingredients
Firm white bread slice

5

Olive oil

30 Milliliter

(2 Tablespoon)

Garlic

1 Clove (5 gm)

, minced

Paprika

1 Milliliter

(1/4 tsp)
Nutrition Facts
Serving size: Complete recipe
Calories 540 Calories from Fat 278
% Daily Value*
Total Fat 30 g46.4%
Saturated Fat 4.2 g20.8%
Trans Fat 0 g
Cholesterol 0 mg
Sodium 552.9 mg23%
Total Carbohydrates 55 g18.4%
Dietary Fiber 2.7 g10.7%
Sugars 0.2 g
Protein 7 g14.2%
Vitamin A 10.6% Vitamin C 3.8%
Calcium 1.1% Iron 2.7%
*Based on a 2000 Calorie diet
Directions
1. Heat oven to 300°F (150°C). Trim and discard crusts from bread. Cut bread into 1/2 inch (1.3-cm) cubes.
2. Heat oil in medium skillet over medium heat until hot; stir in garlic and paprika. Add bread; cook and stir just until bread is evenly coated with oil, about 1 minute.
3. Spread bread on large baking sheet. Bake until crisp and golden, 20 to 25 minutes. Cool completely.