»

Recipes

»

Mexican

»

Salsa

»

Garden Tomato Salsa
Garden Tomato Salsa Recipe
It will keep well for several days in the refrigerator.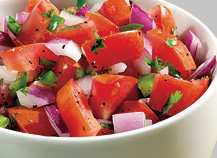 Ingredients
Fresh tomatoes

6

, quartered

Olive oil

2 Teaspoon

Red wine vinegar

2 Teaspoon

Lime

1⁄2

, juiced

Salt

1⁄8 Teaspoon

Sweet onion

1⁄2

, chopped

Green bell pepper

To Taste

, coarsely chopped

Fresh cilantro

1⁄4 Cup (4 tbs)

Pickled jalapeno peppers slices

5

(or To Taste)
Nutrition Facts
Serving size
Calories 25 Calories from Fat 10
% Daily Value*
Total Fat 1 g1.8%
Saturated Fat 0.16 g0.8%
Trans Fat 0 g
Cholesterol 0 mg
Sodium 48.1 mg2%
Total Carbohydrates 4 g1.2%
Dietary Fiber 0.98 g3.9%
Sugars 2.2 g
Protein 0.7 g1.4%
Vitamin A 12.9% Vitamin C 16.9%
Calcium 0.9% Iron 1.3%
*Based on a 2000 Calorie diet
Directions
1. Place onion, bell pepper, cilantro, and jalapeno peppers into a food processor. Pulse until finely chopped. Add tomatoes, and pulse just a few times until the tomatoes are coarsely chopped. Transfer to a bowl with a tight-fitting lid.

2. In a separate bowl, whisk together olive oil, red wine vinegar, lime juice, and salt.

3. Pour dressing over tomatoes, and stir well. Cover, and refrigerate for at least 1 hour.

A beautiful dish. It is nice with heirloom tomatoes as a side for grilled meats-forget the naughty Doritos! I often use pompadams cooked over an open flame.
Posted on:
15 August 2007 - 6:06pm