»

Recipes

»

Chorizo

»

Garbanzo Chorizo Soup
Garbanzo Chorizo Soup Recipe
Garbanzo Chorizo Soup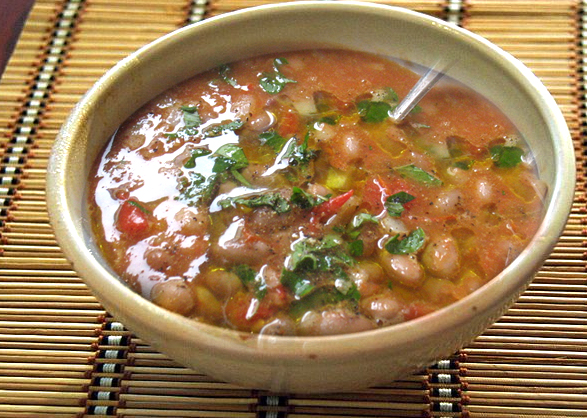 Ingredients
Ham shank -2 pounds, cut into pieces

Water

3 Quart

Large onions -2, sliced

Bay leaf

1

Beef bouillon cubes- 2

Chorizo -1 pound, cut into 1/2-inch slices

Garlic cloves -4 to 6, thinly sliced

Garbanzos -4 cups cooked or

Canned garbanzos -two 16-ounce cans, drained

Cabbage- 1/2 small head, coarsely shredded

Large carrots -4, cut into 1/4-inch slices

Green peppers -2, seeded and cut into 1/4-inch slices

Tabasco sauce

Salt

To Taste

Pepper

To Taste
Directions
MAKING
1. Take a large kettle, and add ham shanks, water, onions, bay leaf and beef bouillon cubes and cook over low heat for about 1 ½ hours until the meat turns soft.
2. Spoon out the ham shank.
3. Cut the meat into manageable pieces and stir into soup. Discard the bone.
4. Take a saucepan, and brown the sausage in it along with garlic.
5. Stir in browned sausage and garlic into the soup along with 1 tbsp of the drippings.
6. Stir in chorizo, garlic cloves, garbanzos, cabbage and large carrots into it and cook over low heat for 20 minutes until carrots and pepper soften.
7. Spoon off the fat.

SERVING
8. Serve the garbanzo chorizo soup along with Tabasco sauce.