»

Recipes

»

Greek

»

Baked Galaktoboureko
Baked Galaktoboureko Recipe
Baked Galaktoboureko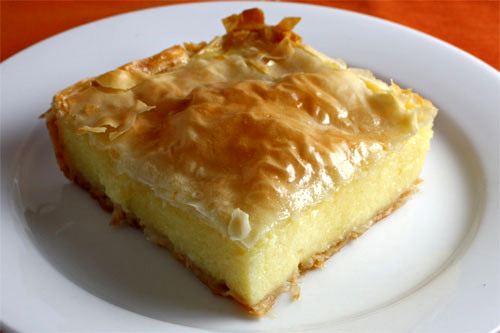 Ingredients
Egg yolks

8

Vanilla

1 Tablespoon

Sugar

8 Tablespoon

Phyllo pastry sheets

1⁄2 Pound

Warm milk

1 1⁄2 Quart

Sweet butter

1 Cup (16 tbs)

, melted

Cornstarch

6 Tablespoon

Heavy cream

1 Cup (16 tbs)

Syrup

1⁄2 Cup (8 tbs)
Nutrition Facts
Serving size: Complete recipe
Calories 5819 Calories from Fat 3238
% Daily Value*
Total Fat 366 g563.1%
Saturated Fat 216.5 g1082.5%
Trans Fat 0 g
Cholesterol 2467.5 mg
Sodium 1911.5 mg79.6%
Total Carbohydrates 576 g192%
Dietary Fiber 5.3 g21.2%
Sugars 202 g
Protein 90 g179.9%
Vitamin A 254.1% Vitamin C 2.4%
Calcium 210.7% Iron 66.9%
*Based on a 2000 Calorie diet
Directions
Beat egg yolks and sugar until mixture is thick and pale in color.
Stir in warm milk alternately with the comstarch and cook over low heat, stirring constantly, until mixture almost reaches a boil.
Remove from heat and stir in heavy cream and vanilla.
Place half the sheets of phyllo pastry in a well buttered 9 X 13 inch pan, buttering each sheet generously before putting in the pan.
Pour cream mixture into pan and top with remaining sheets of phyllo, buttering each evenly.
With a sharp knife cut top pastry into 4 or 5 strips.
Bake in a preheated 375 degree oven for 45 to 50 minutes or until golden.
Remove from oven and pour cool syrup over the hot galatoboureko.
Do not cover pan or it will make the cake soggy.
Cool and cut into squares before serving.
Syrup: Combine 3 1/2 cups sugar, 2 1/2 cups boiling water, and 1 teaspoon lemon juice.
Bring to a boil and simmer for 15 minutes.
Cool.