»

Recipes

»

Indian

»

Punjabi

»

Gajar Ka Halwa
Gajar Ka Halwa Recipe
This is a kid friendly Gajar Ka Halwa recipe. My grand mother used to make this Gajar Ka Halwa whenever I visited her. This reminds me of sweet memories of childhood. Gajar ka Halwa, also known as Carrot Halwa, is a very popular sweet dish in India. This is a festive dish generally made on Diwali. It can be eaten during breakfast. Cook, share and enjoy this Gajar Ka Halwa recipe.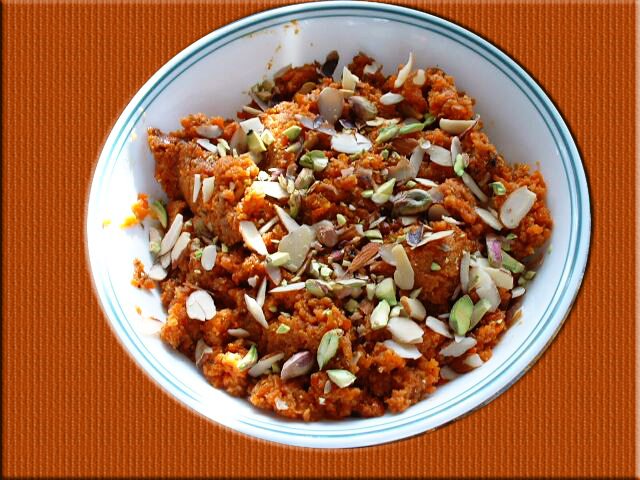 Ingredients
Carrots

2 Pound

, grated

Evaporated milk

12 Ounce

Sweetened condensed milk

14 Ounce

Cardamom

5

(5 Pods)

Ghee

4 Tablespoon

Powdered milk

5 Tablespoon
Nutrition Facts
Serving size
Calories 751 Calories from Fat 311
% Daily Value*
Total Fat 35 g54.6%
Saturated Fat 21.8 g108.9%
Trans Fat 0 g
Cholesterol 116.8 mg
Sodium 442.4 mg18.4%
Total Carbohydrates 92 g30.6%
Dietary Fiber 6.5 g26.1%
Sugars 80.5 g
Protein 21 g41.5%
Vitamin A 770.4% Vitamin C 32.2%
Calcium 75.2% Iron 6.7%
*Based on a 2000 Calorie diet
Directions
1.Cook evaporated milk, cadamom pods, and carrots in
a heavy deep saucepan and bring it to boil then
reduce heat.
2. Cook over medium heat until all the milk gets
dried up.
3. Stir the mixture occasionally to prevent any
sticking.
4. Add sweetened condensed milk and ghee and let the
mixture dry.
5. When it is close to dry and carrots are soft add
powdered milk. Mix with a little water to make a
paste.

Note: This can be garnished with nuts or soaked raisins or fresh cream.