»

Recipes

»

Indian

»

Halwa
Gajar Halwa Recipe
One of the most popular Indian desserts - the Gajar halwa -is just what you need to make your day. Enjoy the simply delicious taste and flavor of grated carrots cooked in ghee, milk, sugar and garnished with the choicest nuts and raisins.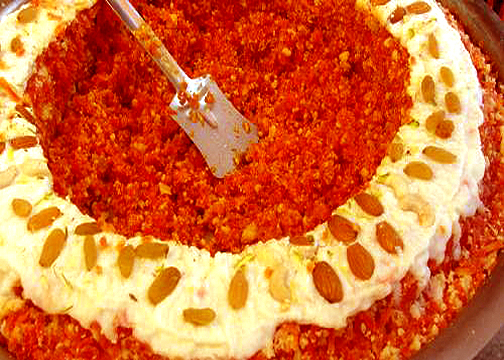 Ingredients
Carrots

1 Kilogram

Milk

1 Liter

Cardamom seeds

1 Teaspoon

Water

3⁄4 Cup (12 tbs)

Ghee

3 Tablespoon

(Purified Butter)

Raisins

2 Tablespoon

Almonds

2 Tablespoon

Pistachios

2 Tablespoon

Sugar

450 Gram
Nutrition Facts
Serving size
Calories 359 Calories from Fat 94
% Daily Value*
Total Fat 11 g16.6%
Saturated Fat 4.9 g24.7%
Trans Fat 0 g
Cholesterol 22.1 mg
Sodium 109.5 mg4.6%
Total Carbohydrates 64 g21.3%
Dietary Fiber 3.7 g14.9%
Sugars 57.1 g
Protein 6 g11.1%
Vitamin A 336.5% Vitamin C 10.4%
Calcium 16.1% Iron 3.9%
*Based on a 2000 Calorie diet
Directions
Wash and grate the carrots. Soak the raisins in water for 30 minutes. Blanch and shred the nuts.
Put the water to boil, when it starts boiling add the grated carrots. Cook for 5-7 minutes.
Add the milk. Cook on a low flame for 1 hour stirring occasionally.
Add sugar, mix well and cook till the sugar has dissolved and all the milk has been absorbed.
Add ghee and simmer for 2-3 minutes. Add the slightly crushed cardamoms and the raisins.
Mix well. Remove from heat and arrange in a serving dish. Garnish with almonds and pistachios. Serve cold, hot or at room temperature.

I*h8t*mwindiz says :
Eyyw hw cn u indian lyk ths ufff jus discustn!lol
Posted on:
31 May 2011 - 6:11am

your gajar halwa recipe looks very delicious. just one tip...if you won't add water, the taste will increase atleast 50 times...
Posted on:
3 April 2009 - 9:12am