»

Recipes

»

Thai

»

Gai Ta Krai
Gai Ta Krai Recipe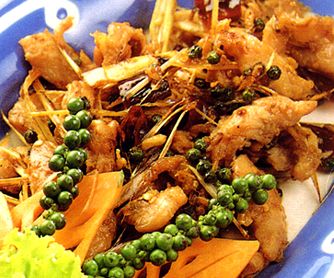 Summary
Preparation Time
15 Min
Cooking Time
1 Hr 10 Min
Ready In
1 Hr 25 Min
Difficulty Level
Medium
Health Index
Just Enjoy
Servings
3
Ingredients
Chicken Chunked 500 grams

Lemon grass sprig

4

Crushed Garlic 3 Table spoon

Fishsauce 2-3 Tablespoons

Palm sugar

2 Tablespoon

Whole green Pepers- fresh 3clusters

Dried red chillies - long type 2 chiles
Directions
Mixed ingredents except chicken and let stand 1 hour.
2). Heat 5 tablespoons oil in pan when hot add chickenand other ingredents cook till dry.
3). Garnish and Serve.

I couldn't find fresh lemongrass where I live in Oregon, so the Gourmet Garden tubed lemongrass is a great substitute. Look for it in the fresh produce department at Safeway and other stores. They also have great garlic, ginger, basil and other varieties. They last for ages in the fridge and ounce for ounce are a good deal. They've got a website at www.gourmetgarden.com. Enjoy!
Posted on:
31 January 2009 - 9:34pm