»

Recipes

»

Fudge

»

Fudge Tart
Fudge Tart Recipe
Ooh la la! As special as this chocolate tart looks, it's 1-2-3 easy.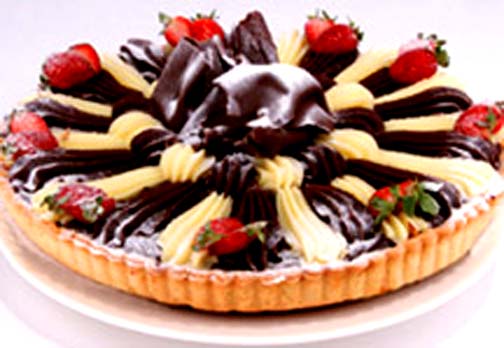 Summary
Preparation Time
20 Min
Cooking Time
1 Hr 55 Min
Ready In
2 Hr 15 Min
Difficulty Level
Medium
Health Index
Average
Servings
10
Ingredients
Bittersweet baking chocolate

4 Ounce

Granulated sugar

1 Cup (16 tbs)

All purpose flour

3⁄4 Cup (12 tbs)

Eggs

3

, beaten

Chocolate glaze

1 Cup (16 tbs)

Unsweetened baking chocolate

1 Ounce

Butter/Margarine

1 Teaspoon

Powdered sugar

1 Cup (16 tbs)

Boiling water

3 Tablespoon

White drizzle

1 Cup (16 tbs)

White chocolate baking bar

1 Ounce

Vegetable oil

1⁄2 Teaspoon
Nutrition Facts
Serving size
Calories 507 Calories from Fat 231
% Daily Value*
Total Fat 27 g41%
Saturated Fat 14 g70.2%
Trans Fat 1.1 g
Cholesterol 65 mg
Sodium 104.4 mg4.3%
Total Carbohydrates 71 g23.7%
Dietary Fiber 4.8 g19.3%
Sugars 52.7 g
Protein 6 g11%
Vitamin A 1.8% Vitamin C 0.1%
Calcium 2% Iron 8.7%
*Based on a 2000 Calorie diet
Directions
1. Heat oven to 350°F. Grease 9x1-inch tart pan with removable bottom with shortening. Wrap outside bottom and side of pan with foil to prevent leaking. In 1-quart saucepan, heat bittersweet chocolate and 1/3 cup butter over low heat, stirring frequently, until melted; cool slightly.
2. In large bowl, mix granulated sugar, flour and eggs with spoon until well blended. Stir in chocolate mixture. Pour into pan. Bake 30 to 35 minutes or until edges are set. Cool completely on wire rack, about 1 hour.
3. In 1-quart saucepan, heat unsweetened chocolate and 1 teaspoon butter over low heat, stirring constantly, until melted. Remove from heat. Stir in powdered sugar and 2 tablespoons water until smooth. Stir in additional boiling water, 1/2 teaspoon at a time, until spreadable. Spread warm glaze over tart.
4. In small microwavable bowl, microwave white chocolate and oil on Medium (50%) 20 to 30 seconds; stir. Drizzle over warm glaze. Let stand until glaze is set. Remove foil and side of pan before serving.
High Altitude (3500-6500 ft) No changes.