»

Recipes

»

Brownie

»

Fudge Brownies
Fudge Brownies Recipe
Fudge brownies are one of the best brownies to taste. The fudge brownies are made using nuts, unsweetened chocolates, and sugar. Fudge brownies do not need any frosting or any other garnishing. The nuts add taste all the more to the fudge brownies.
Fudge Brownies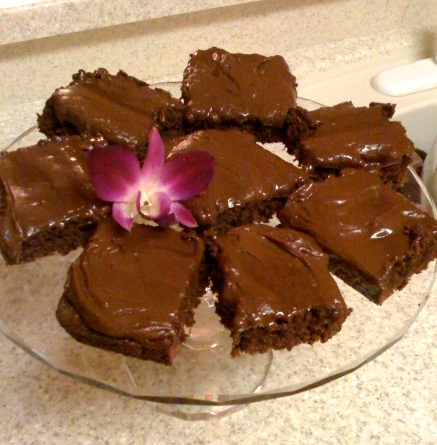 Ingredients
Cake flour

2⁄3 Cup (10.67 tbs)

, sifted

Baking powder

1⁄2 Teaspoon

Salt

1⁄4 Teaspoon

Eggs

2 Small

Sugar

1 Cup (16 tbs)

Corn oil

1⁄4 Cup (4 tbs)

Unsweetened chocolate

2 Ounce

Vanilla

1 Teaspoon

Nuts

1⁄2 Cup (8 tbs)

, coarsely chopped
Nutrition Facts
Serving size
Calories 156 Calories from Fat 75
% Daily Value*
Total Fat 8 g12.9%
Saturated Fat 2 g9.9%
Trans Fat 0 g
Cholesterol 20.1 mg
Sodium 66.1 mg2.8%
Total Carbohydrates 19 g6.5%
Dietary Fiber 1.6 g6.2%
Sugars 12.8 g
Protein 3 g5.7%
Vitamin A 0.5% Vitamin C
Calcium 2.8% Iron 4%
*Based on a 2000 Calorie diet
Directions
MAKING
1)In a mixing bowl, sift cake flour, baking powder and salt together and keep aside.
2)In another bowl, beat eggs and slowly add sugar gradually, beating well.
3)Add corn oil.
4)Then, melt chocolate and mix chocolate and vanilla to egg mixture.
5)Add the dry ingredients and nuts and stir well.
6)Take a greased 8-inch cake pan and put the batter into it.
7)Bake in 350 degrees for about 35 minutes or until done.
8)Cut into squares while warm.

SERVING
9)Serve the fudge brownies warm or cold.