»

Recipes

»

Bar

»

Nut Bar

»

Fruity Walnut Bars
Fruity Walnut Bars Recipe
Fruity Walnut Bars are the most irresistible snack. Here's the recipe for this wonderful treat, filled with the goodness of walnuts and prunes. Try them out and let me know how it turned out for you.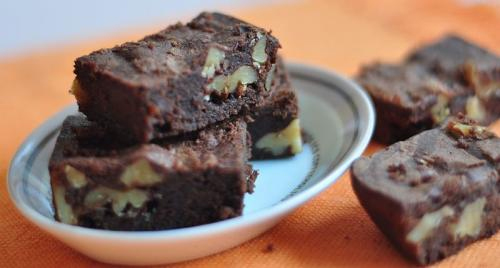 Ingredients
Shortening

1/3 Cup (16 tbs)

Sugar

1 Cup (16 tbs)

Eggs

2 Small

, beaten

Flour

3/4 Cup (16 tbs)

, sifted

Cocoa

3 Tablespoon

Salt

1/2 Teaspoon

Baking powder

1/2 Teaspoon

Vanilla

1/2 Teaspoon

Walnuts

1/2 Cup (16 tbs)

, chopped

Cooked prunes - 1 cup, pitted and chopped
Directions
GETTING READY
1) Grease a 9-inch-square pan.

MAKING
2) In a saucepan, heat shortening.
3) Add in the sugar and eggs and beat well.
4) Sift together flour, cocoa, salt, and baking powder.
5) Stir into the shortening mix.
6) Mix in the vanilla, walnuts, and prunes.
7) Transfer the batter into the square pan.
8) Place in the oven at 350° F and bake for 25 to 30 minutes.
9) Cool.

SERVING
10) Cut into bars and serve.