»

Recipes

»

Bun

»

Bun

»

Fruity Buns
Fruity Buns Recipe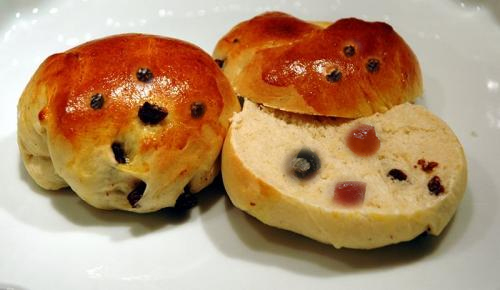 Ingredients
Scalded milk

1⁄2 Cup (8 tbs)

Butter/Oil

1⁄4 Cup (4 tbs)

Honey

1 Tablespoon

Salt

1 Teaspoon

Cold water

1⁄2 Cup (8 tbs)

Dry yeast

1⁄4 Ounce

(1 Package)

Egg

1

Whole wheat flour

3 Cup (48 tbs)

Whole-grain bread crumbs

1⁄2 Cup (8 tbs)

Honey

2 Tablespoon

Cinnamon

1⁄4 Teaspoon

Egg white

1

, slightly beaten

Chopped cooked fruit

1⁄3 Cup (5.33 tbs)

(Apricots, Prunes, Raisins, Etc.)
Nutrition Facts
Serving size: Complete recipe
Calories 2188 Calories from Fat 549
% Daily Value*
Total Fat 63 g96.5%
Saturated Fat 33.9 g169.3%
Trans Fat 0 g
Cholesterol 343.7 mg
Sodium 2181 mg90.9%
Total Carbohydrates 361 g120.4%
Dietary Fiber 54.1 g216.2%
Sugars 53.1 g
Protein 74 g148.8%
Vitamin A 42.2% Vitamin C 18.9%
Calcium 32.7% Iron 97.8%
*Based on a 2000 Calorie diet
Directions
Combine milk, butter or oil, honey, and salt.
Cool to lukewarm by adding water.
Stir in yeast, then beat in egg, cover and allow to set in a warm place for 10 to 15 minutes.
Add flour and work until dough is well blended and soft.
Shape into 12 buns.
Combine bread crumbs, honey, and cinnamon.
Dip each bun first in egg white, then in crumb mixture; place on greased cookie sheet, cover with cloth, and let rise in warm place until light
Preheat oven to 375° F.
Press deep indentation in center of each bun.
Place about 1 teaspoonful of fruit into each indentation.
Bake in preheated oven for 25 minutes.