»

Recipes

»

Pork

»

Fruited Sweet-Sour Pork
Fruited Sweet-Sour Pork Recipe
Fruited Sweet-Sour Pork is a dish based on the Cantonese tradition. This dish is very simple and interesting to eat. The sweet sour or fruited sauce goes very well with pork and is mostly served with rice. Fruited sweet-sour pork has health benefits.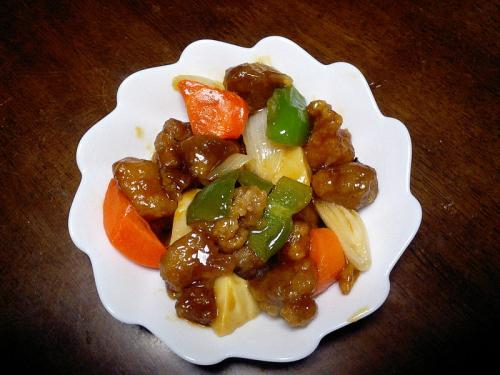 Ingredients
Butter/Margarine

2 Tablespoon

Pork shoulder

1 1⁄2 Pound

, sliced in thin strips (2-2 1/2 Pound Pork Shoulder, Boned)

Canned pineapple tidbits

13 1⁄2 Ounce

Bottled russian dressing

1⁄2 Cup (8 tbs)

Water

3⁄4 Cup (12 tbs)

Cornstarch

2 Tablespoon

Soy sauce

1 1⁄2 Tablespoon

Vinegar

1 Teaspoon

Salt

1⁄4 Teaspoon

Green pepper

1 Medium

, sliced thin

Onions

1⁄2 Cup (8 tbs)

, thinly sliced

Cooked rice

2 Cup (32 tbs)

(Hot)
Nutrition Facts
Serving size
Calories 635 Calories from Fat 245
% Daily Value*
Total Fat 27 g42.1%
Saturated Fat 11.3 g56.6%
Trans Fat 0.2 g
Cholesterol 121.6 mg
Sodium 705.9 mg29.4%
Total Carbohydrates 62 g20.6%
Dietary Fiber 2.3 g9.2%
Sugars 24.6 g
Protein 33 g65.8%
Vitamin A 6.8% Vitamin C 52.7%
Calcium 4.1% Iron 19.6%
*Based on a 2000 Calorie diet
Directions
GETTING READY
1)Preheat fry pan at 350 degrees.
2)Drain pineapple and reserving about 3/4 cup syrup.

MAKING
3)Add butter or margarine to the pan and add pork and saute about 2 to 3 minutes or until meat is browned.
4)In a bowl, pineapple syrup, Russian dressing, water, cornstarch, soy sauce, vinegar and salt. 6) Pour it on meat and stir until thickened. Cover.
5)Decrease the heat to 225 degrees and simmer 1/2 hour, or until meat is fork tender.
6)Add green pepper, onion, and pineapple tidbits. Cover and cook 5 minutes.

SERVING
7)Serve over hot cooked rice.