»

Recipes

»

Oatmeal

»

Fruited Oatmeal
Fruited Oatmeal Recipe
These Fruited Oatmeals make an irresistible breakfast ! Your kids will love this Fruited Oatmeals with their favorite seasonal fruits. Try out the Fruited Oatmeals and tell me if you like them!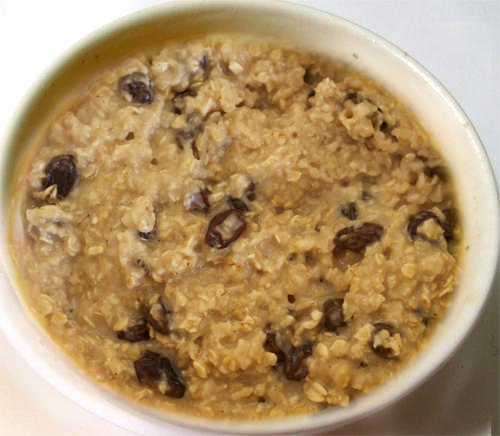 Ingredients
Milk

1 1⁄2 Cup (24 tbs)

Water

1 1⁄2 Cup (24 tbs)

Salt

1 Teaspoon

Rolled oats

1 1⁄2 Cup (24 tbs)

(quickcooking or oldfashioned)

Raisins

3⁄4 Cup (12 tbs)
Nutrition Facts
Serving size
Calories 223 Calories from Fat 37
% Daily Value*
Total Fat 4 g6.5%
Saturated Fat 1.5 g7.7%
Trans Fat 0 g
Cholesterol 6.8 mg
Sodium 417.7 mg17.4%
Total Carbohydrates 42 g14%
Dietary Fiber 3.7 g14.7%
Sugars 20.1 g
Protein 7 g13.5%
Vitamin A 1.4% Vitamin C 1%
Calcium 10.1% Iron 8.9%
*Based on a 2000 Calorie diet
Directions
Combine milk, water, and salt in a 2 quart saucepan.
Cover, and bring to a boil.
Add oats and raisins.
Reduce heat, and simmer 5 minutes or until oats are tender.
NOTE: Small pieces of dried apricots, peaches, dates, prunes, pears, or other dried fruits may be substituted for the raisins.