»

Recipes

»

Cake

»

Eggless Mixed Fruit Cake
Eggless Mixed Fruit Cake Recipe
This fruit cake invites a variety of dried and fresh fruits. The mix of fruits has worked so well that you do not miss the eggs at all in the cake!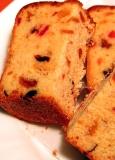 Summary
Preparation Time
20 Min
Cooking Time
2 Hr 0 Min
Ready In
2 Hr 20 Min
Difficulty Level
Medium
Health Index
Average
Servings
8
Ingredients
Flour

1 Pound

Salt

1 Pinch

Butter

6 Ounce

, cut into cubes

Castor sugar

8 Ounce

Currants

8 Ounce

Seedless raisins

4 Ounce

Mixed peel

4 Ounce

, chopped

Sultanas

6 Ounce

Glace cherries

3 Ounce

, quartered

Soda bicarbonate

2 Teaspoon (Leveled)

Milk

1⁄2 Pint

Vinegar

3 Tablespoon
Nutrition Facts
Serving size
Calories 657 Calories from Fat 167
% Daily Value*
Total Fat 19 g29.3%
Saturated Fat 11.6 g58.1%
Trans Fat 0 g
Cholesterol 48.7 mg
Sodium 260.5 mg10.9%
Total Carbohydrates 117 g38.8%
Dietary Fiber 5.6 g22.5%
Sugars 61.5 g
Protein 9 g17.5%
Vitamin A 11.6% Vitamin C 51.5%
Calcium 9.5% Iron 20.5%
*Based on a 2000 Calorie diet
Directions
GETTING READY
1. Grease an 8-inch round or square cake tin with oil and line the bottom with greaseproof paper.
2. Preheat the oven to 350° F

MAKING
3. In a large mixing bowl, sift together flour and salt.
4. Add butter cubes and rub into the flour mixture with your fingertips, so that the mixture resembles crumbs.
5. Stir in the sugar and fruits and peel.
6. Dissolve the soda in the milk then stir in the vinegar.
7. Gradually add the liquid to the dry ingredients, mixing quickly and lightly, only enough to moisten.
8. Turn the mixture into the prepared pan and spread evenly with a spatula.
9. Bake in preheated oven for about 2 hours, reducing the temperature to 300 degree F after 1 hour of baking.
10. Bake until a skewer comes out clean and cake is well browned.
11. Remove and let the cake cool in the pan before inverting it onto a wire rack.

SERVING
12. Slice and serve the cake warm or cold, for breakfast or as a teatime snack. You can use this sponge as a base for desserts.