»

Recipes

»

Tart

»

Fruit Tarts
Fruit Tarts Recipe
Fruit Tart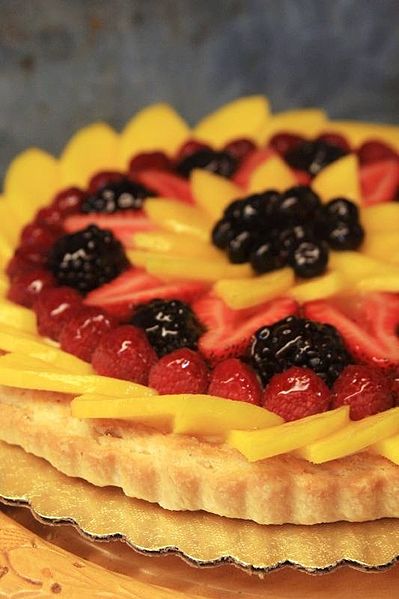 Summary
Preparation Time
40 Min
Cooking Time
1 Hr 0 Min
Ready In
1 Hr 40 Min
Difficulty Level
Easy
Health Index
Average
Servings
6
Ingredients
| | | |
| --- | --- | --- |
| | Butter | 1⁄2 Cup (8 tbs) |
| | Sugar | 1⁄4 Cup (4 tbs) |
| | Salt | 1⁄4 Teaspoon |
| | Egg white | 1 |
| | All purpose flour | 1 1⁄2 Cup (24 tbs) |
| | Fruits | 2 Cup (32 tbs) |
| | Unflavored gelatin | 1 Teaspoon |
| | Granulated sugar | 2 Tablespoon |
| | Flour | 2 Tablespoon |
| | Salt | To Taste |
| | Egg yolk | 1 |
| | Milk | 1⁄2 Cup (8 tbs) |
| | Rum | 2 Tablespoon |
| | Heavy cream | 1⁄2 Cup (8 tbs) |
| | Confectioners sugar | 1 Tablespoon |
| | Vanilla bean/1/2 teaspoon vanilla extract | 1 Inch |
| | Apricot preserves | 1⁄2 Cup (8 tbs) |
Nutrition Facts
Serving size
Calories 524 Calories from Fat 214
% Daily Value*
Total Fat 24 g37.4%
Saturated Fat 14.9 g74.4%
Trans Fat 0 g
Cholesterol 100.5 mg
Sodium 174.2 mg7.3%
Total Carbohydrates 69 g22.9%
Dietary Fiber 1.8 g7.2%
Sugars 34.7 g
Protein 7 g13.7%
Vitamin A 21.9% Vitamin C 30.8%
Calcium 5.8% Iron 9.9%
*Based on a 2000 Calorie diet
Directions
GETTING READY
1. Preheat oven to 375F.

MAKING
To Make Tart Shells:
2. In medium bowl, with fork, blend butter, sugar, salt and egg white until smooth and well combined.
3. Gradually stir in flour, mixing until smooth.
4. For each tart, use 2 teaspoons dough.
5. Press evenly into 2-1/2- to 3-inch tart pans of assorted shapes and sizes.
6. Set pans on cookie sheet and refrigerate 30 minutes.
7. Bake tart shells 12 to 15 minutes until light golden.
8. Cool in pans on wire rack a few minutes and then turn out, and cool completely before filling.
To make the rum sauce :
9. In small saucepan mix well adding gelatin, granulated sugar, flour and dash salt.
10. In a bowl beat egg yolk with milk and rum.
11. Add to gelatin mixture and cook over medium heat, stirring constantly with wire whisk, until mixture is thickened and comes to boiling.
12. Pour into medium bowl set bowl in pan of ice and water and let it stand, stirring occasionally, until mixture begins to set for about 8 to 10 minutes.
13. Fold in beaten egg white.
14. In a bowl beat cream with confectioners' sugar and fold into gelatin mixture.
15. Stir in vanilla and refrigerate until ready to use—at least 30 minutes.
To make Apricot glaze :
16. In small saucepan, over medium heat, stir apricot preserves until melted.
If preserves seem too thick, thin with 1/2 to 1 tablespoon hot water.
17. Then strain and use warm, on tarts.

FINALIZING
18. Spoon several teaspoons of Rum Cream into each shell and refrigerate.
19. Top with fruit drained very well before using.
20. Brush yellow or light fruit with warm Apricot Glaze and red or dark fruit with Currant- Jelly Glaze.

SERVING
21. Refrigerate for 4-5 hours and then serve.

TIP
If desired, make Tart Shells and Rum Cream day before.
Then assemble tarts several hours before serving.