»

Recipes

»

Cheese

»

Fruit And Cheese Combination
Fruit and Cheese Combination Recipe
There's no better way to beat the heat with this Fruit and Cheese Combination. You would sure want to give this Fruit and Cheese Combinationa try, coz it's worth enjoying!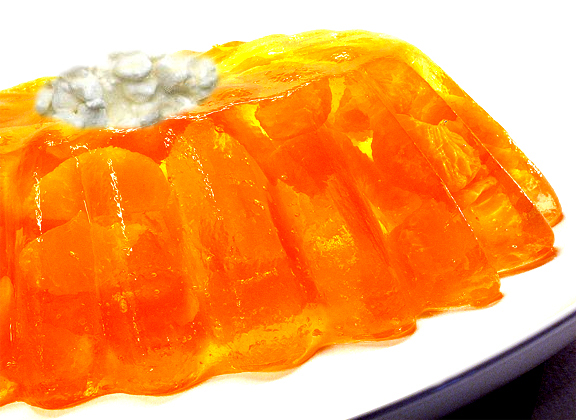 Ingredients
Lime flavored gelatin

1 Tablespoon

Boiling water

1 Cup (16 tbs)

Orange juice

2⁄3 Cup (10.67 tbs)

Orange sections

1 Cup (16 tbs)

Unpeeled apple

1

, cut into strips

Cottage cheese

2 Cup (32 tbs)
Nutrition Facts
Serving size
Calories 148 Calories from Fat 13
% Daily Value*
Total Fat 1 g2.2%
Saturated Fat 0.56 g2.8%
Trans Fat 0 g
Cholesterol 5.6 mg
Sodium 206.5 mg8.6%
Total Carbohydrates 27 g9%
Dietary Fiber 0.49 g2%
Sugars 21.4 g
Protein 7 g13.9%
Vitamin A 1.9% Vitamin C 18.7%
Calcium 5.6% Iron 0.83%
*Based on a 2000 Calorie diet
Directions
Dissolve gelatin in boiling water.
Add orange juice and chill until thick and syrupy.
Gently fold in well drained orange sec- tions and apple strips.
Spoon into molds.
Press a spoonful of cottage cheese in center of each mold.
Chill until firm.
Unmold on a circle of salad greens and pile cottage cheese in center of circle.
Serve with sour cream or any desired dressing.