»

Recipes

»

European

»

Frozen Mudslide
Frozen Mudslide Recipe
A frozen alcoholic drink, feel free to drizzle glass with additional chocolate syrup.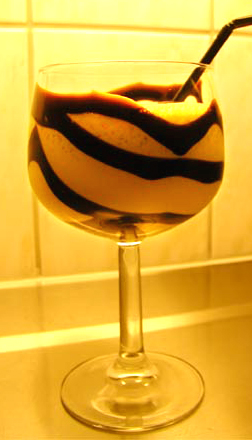 Summary
Preparation Time
5 Min
Cooking Time
5 Min
Ready In
10 Min
Difficulty Level
Very Easy
Health Index
Just Enjoy
Servings
4
Ingredients
Ice

4 Cup (16 tbs)

, crushed

2 (1.5 fluid ounce) jiggers vodka

2 (1.5 fluid ounce) jiggers coffee flavored liqueur

2 (1.5 fluid ounce) jiggers Irish cream liqueur

Chocolate syrup

2 Tablespoon

Whipped cream

1/2 Cup (16 tbs)
Directions
In a blender, combine crushed ice, vodka, coffee liqueur and Irish cream liqueur. Drizzle in Chocolate syrup. Blend until smooth. Pour into glasses and garnish with whipped cream.

It's accidentally that I across this recipe here and I must say it sounded too tempting! Now that I have a bottle of Amarula, a few bottles of vodka and chocolate syrup right in hand, I would defintely have to try this out! May be tonight itself, when my hubby is back home! Will definitely let you know how it came out for me. Thanks!
Posted on:
1 November 2008 - 1:26am