»

Recipes

»

Cocktail

»

Frozen Fruit Cocktail
Frozen Fruit Cocktail Recipe
Frozen Fruit Cocktail is a yummy dish that will definitely be a winner at the next party you host. I served the Frozen Fruit Cocktail last week for my parents wedding anniversary. Don't miss this one out.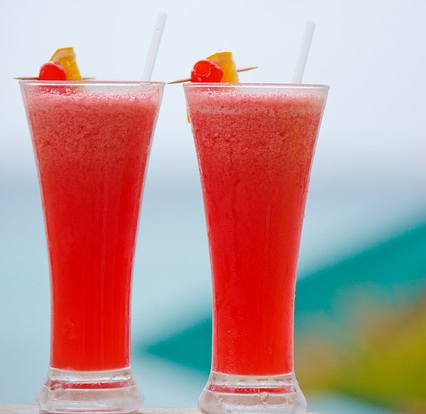 Ingredients
Sugar

8 Cup (128 tbs)

(May Reduce To 4 Cups)

Canned pineapple juice

46 Ounce

(1 Can)

Frozen orange juice concentrate

12 Ounce

Water

3 Can (30 oz)

Ripe pears

16 Pound

, peeled, cored and cut into bite-size pieces (1/3 Bushel)

Ripe peaches

16 Pound

, peeled, pitted and cut into bite-size pieces (1/3 Bushel)

Pineapple tidbits with juice

4 Can (40 oz)

Seedless grapes

5 Pound

(Green Or Red Colored)

Maraschino cherries

1 Pound

, drained and cut in half (1 Large Bottle)
Nutrition Facts
Serving size: Complete recipe
Calories 16860 Calories from Fat 276
% Daily Value*
Total Fat 33 g50.8%
Saturated Fat 3.3 g16.6%
Trans Fat 0 g
Cholesterol 0 mg
Sodium 162.2 mg6.8%
Total Carbohydrates 4361 g1453.7%
Dietary Fiber 371.4 g1485.5%
Sugars 3723.2 g
Protein 121 g242.7%
Vitamin A 541.8% Vitamin C 2666.7%
Calcium 174.6% Iron 248.9%
*Based on a 2000 Calorie diet
Directions
Heat to dissolve and cool.
Pour this into a very large pan or bowl.
Add: Put into plastic containers or 1 -quart Ziploc freezer bags.
Freeze.
When you are ready to serve, microwave the container for 2 or 3 minutes.
It should still be slightly frozen and slushy.