»

Recipes

»

French

»

Souffle

»

Frozen Vanilla Souffle
Frozen Vanilla Souffle Recipe
Try out the easy-to-make Frozen Vanilla Souffle. Enjoy the Vanilla Souffle at any party and let us know how you liked it!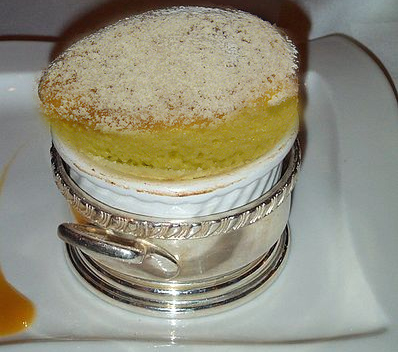 Ingredients
Egg yolks

4

Sugar

1 Cup (16 tbs)

Salt

1⁄8 Teaspoon

Milk

1 Cup (16 tbs)

Light cream

1 Cup (16 tbs)

Vanilla bean/1 1/2 teaspoons vanilla extract

4 Inch

Heavy cream

2 Cup (32 tbs)

, whipped

Shaved chocolate/Powdered cocoa

1 Cup (16 tbs)
Nutrition Facts
Serving size: Complete recipe
Calories 4119 Calories from Fat 2768
% Daily Value*
Total Fat 313 g482%
Saturated Fat 191.7 g958.4%
Trans Fat 0 g
Cholesterol 1687 mg
Sodium 625.4 mg26.1%
Total Carbohydrates 305 g101.6%
Dietary Fiber 12.5 g50.2%
Sugars 270.7 g
Protein 38 g76.1%
Vitamin A 211.7% Vitamin C 7.2%
Calcium 89.7% Iron 10.8%
*Based on a 2000 Calorie diet
Directions
1. Beat the egg yolks in the top of a double boiler until light and lemon-colored. Gradually beat in the sugar. Stir in the salt and one-quarter cup of the milk.
2. Split the vanilla bean and place in a saucepan with the light cream and remaining milk. Heat until scalded, cool and remove the vanilla bean. Gradually stir the milk mixture into the egg mixture and cook over hot, not boiling, water, stirring constantly, until the mixture coats a metal spoon. Cool.
3. Fold in the whipped cream and turn the mixture into a one-quart souffle dish with a three-inch band of heavy brown paper or foil tied around the outside at the top. This will give the mixture the illusion of a hot souffle when frozen.
4. Place in a freezer for six to eight hours, or overnight. Remove the paper rim and serve from the dish. Garnish with shaved chocolate or powdered cocoa.