»

Recipes

»

French

»

Souffle

»

Frozen Raspberry Souffle
Frozen Raspberry Souffle Recipe
Frozen Raspberry Souffle is simply a delicious recipe. A delicious dessert recipe; I bet this Frozen Raspberry Souffle will surely tempt you to prepare on every party!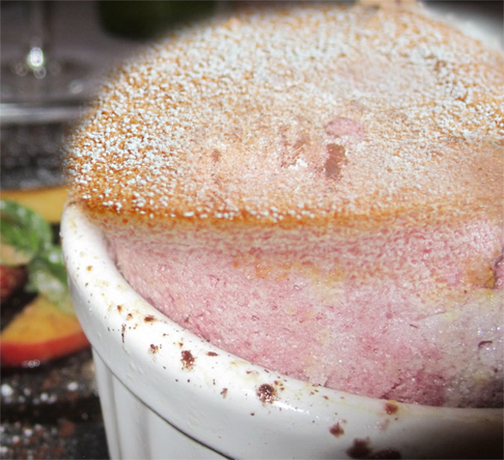 Ingredients
Lightly sweetened fresh raspberries/1 package, 10 ounce, frozen raspberries, thawed and undrained

1 Pint

Framboise/Kirsch

1 Tablespoon

Sugar

1 Cup (16 tbs)

Water

1 Cup (16 tbs)

Corn syrup

1 Tablespoon

Egg whites

3

Genoise cake/Sponge cake

1

, split into 3 layers horizontally and cut into 1 1/2 inch pieces (8 Inch)

Whipping cream

1⁄2 Cup (8 tbs)

, whipped

Raspberry syrup

1 Cup (16 tbs)

Fresh raspberries

1 Cup (16 tbs)
Nutrition Facts
Serving size: Complete recipe
Calories 3177 Calories from Fat 431
% Daily Value*
Total Fat 48 g74.1%
Saturated Fat 27.8 g139.2%
Trans Fat 0 g
Cholesterol 318.9 mg
Sodium 573.9 mg23.9%
Total Carbohydrates 670 g223.3%
Dietary Fiber 42.8 g171%
Sugars 576.8 g
Protein 25 g50.7%
Vitamin A 8.9% Vitamin C 388.6%
Calcium 34.4% Iron 77.8%
*Based on a 2000 Calorie diet
Directions
Prepare 1-quart souffle dish with lightly oiled 3-inch waxed paper collar, securing with string.
Set aside.
Sprinkle berries lightly with framboise or kirsch.
Combine sugar, water and corn syrup in small saucepan.
Bring to boil over medium heat, stirring frequently just until sugar dissolves.
Continue boiling, without stirring, to soft ball stage (235°F on candy thermometer).
Remove from heat.
Using electric mixer, beat egg whites until soft peaks form.
Gradually add 3/4 cup syrup, beating constantly until whites are stiff and shiny.
Flavor remaining syrup with framboise and drizzle evenly over cake.
Gently fold berries into meringue, then fold in whipped cream.
Spoon generous layer of raspberry mixture into prepared souffle dish and top with about half of cake.
Repeat, ending with raspberry mixture (souffle should almost reach top of collar).
Freeze several hours.
Meanwhile, combine raspberry syrup with framboise to taste.
Add about 1 cup raspberries and blend well.
Transfer souffle to refrigerator 1 to 1 1/2 hours before serving.
Carefully remove collar sprinkle sugar dust just before bringing souffle to table.
Image Courtesy :
http://www.flickr.com/photos/iansommerville/5978840001/