»

Recipes

»

Cake

»

Frosted Applesauce Cake
Frosted Applesauce Cake Recipe
Frosted Applesauce cake is one cake that you would love baking and eating too! A delicious mix of apple and nuts, this is an anytime welcome treat!!
Frosted Applesauce Cake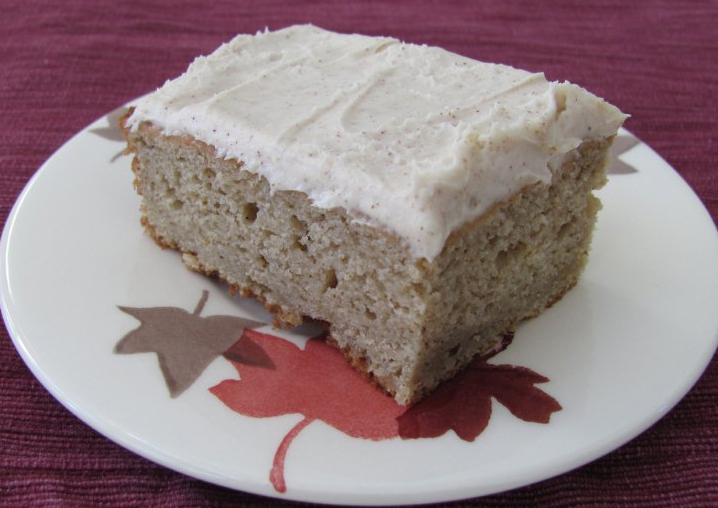 Ingredients
Applesauce

1/2 Cup (16 tbs)

Butter

1/2 Cup (16 tbs)

Brown sugar

1 Cup (16 tbs)

Raisins

1 Cup (16 tbs)

Cloves

1 Teaspoon

Cinnamon

1 Teaspoon

Nutmeg

1 Teaspoon

Salt

1/4 Teaspoon

Flour

2 Cup (16 tbs)

Soda

2 Teaspoon

Nuts

1 Cup (16 tbs)

, chopped

Confectioner's sugar

2 Cup (16 tbs)

Hot milk - 4 tbsp.

Melted butter

3 Tablespoon

Vanilla

1/2 Teaspoon
Directions
MAKING
1) In a saucepan, heat applesauce, butter, brown sugar, and raisins.
2) When butter and sugar dissolve, turn off the heat and cool.
3) Sift together the spices, salt, flour and soda and stir into the applesauce mix.
4) Add in the nuts.
5) Turn into a greased 9 x 9-inch cake pan.
6) Place in the oven and bake at 350 degrees, for 20 to 30 minutes.
7) Mix in the remaining ingredients and continue mixing till smooth.
8) Spread over the warm cake.

SERVING
9) Slice and serve.