»

Recipes

»

Brownie

»

Frosted Cocoa Brownies
Frosted Cocoa Brownies Recipe
These frosted cocoa brownes make it to the topof the list in my favorite brownies. I find this frosted cocoa brownie recipe too good that I cannot stop making it. Let me know if you like it too!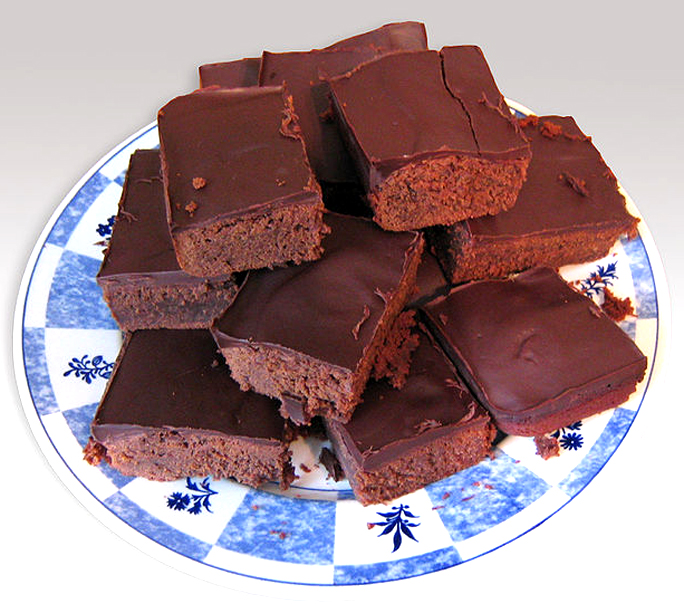 Ingredients
Sugar

2 Cup (32 tbs)

Self rising flour

2 Cup (32 tbs)

Baking soda

1 Teaspoon

Cocoa

1⁄4 Cup (4 tbs)

(plus 1 tablespoon)

Butter/Margarine

1 Cup (16 tbs)

Water

1 Cup (16 tbs)

Buttermilk

1⁄2 Cup (8 tbs)

Eggs

2

, beaten

Vanilla extract

1 Teaspoon
Nutrition Facts
Serving size: Complete recipe
Calories 4339 Calories from Fat 1770
% Daily Value*
Total Fat 202 g310%
Saturated Fat 123.5 g617.6%
Trans Fat 0 g
Cholesterol 906.8 mg
Sodium 4879.2 mg203.3%
Total Carbohydrates 625 g208.2%
Dietary Fiber 19.9 g79.7%
Sugars 402.2 g
Protein 47 g94.9%
Vitamin A 122.2% Vitamin C
Calcium 68.8% Iron 103.2%
*Based on a 2000 Calorie diet
Directions
Combine sugar, flour, soda, and cocoa; stir well, and set aside.
Combine butter and water in a small saucepan; cook over medium heat, stirring occasionally, until butter melts.
Pour over flour mixture.
Beat at medium speed of an electric mixer about 1 minute.
Add buttermilk, eggs, and vanilla; beat just until blended.
Pour into a greased and floured 18- x 12- x 1-inch jellyroll pan.
Bake at 400° for 15 to 20 minutes or until a wooden pick inserted in center comes out clean.
Spread frosting over brownies.
Cool and cut into 2-inch squares.
Image Courtesy :
http://commons.wikimedia.org/wiki/File:Chocolate_brownies_without_table.jpg