»

Recipes

»

Curry

»

Fried Eggs Curry
Fried Eggs Curry Recipe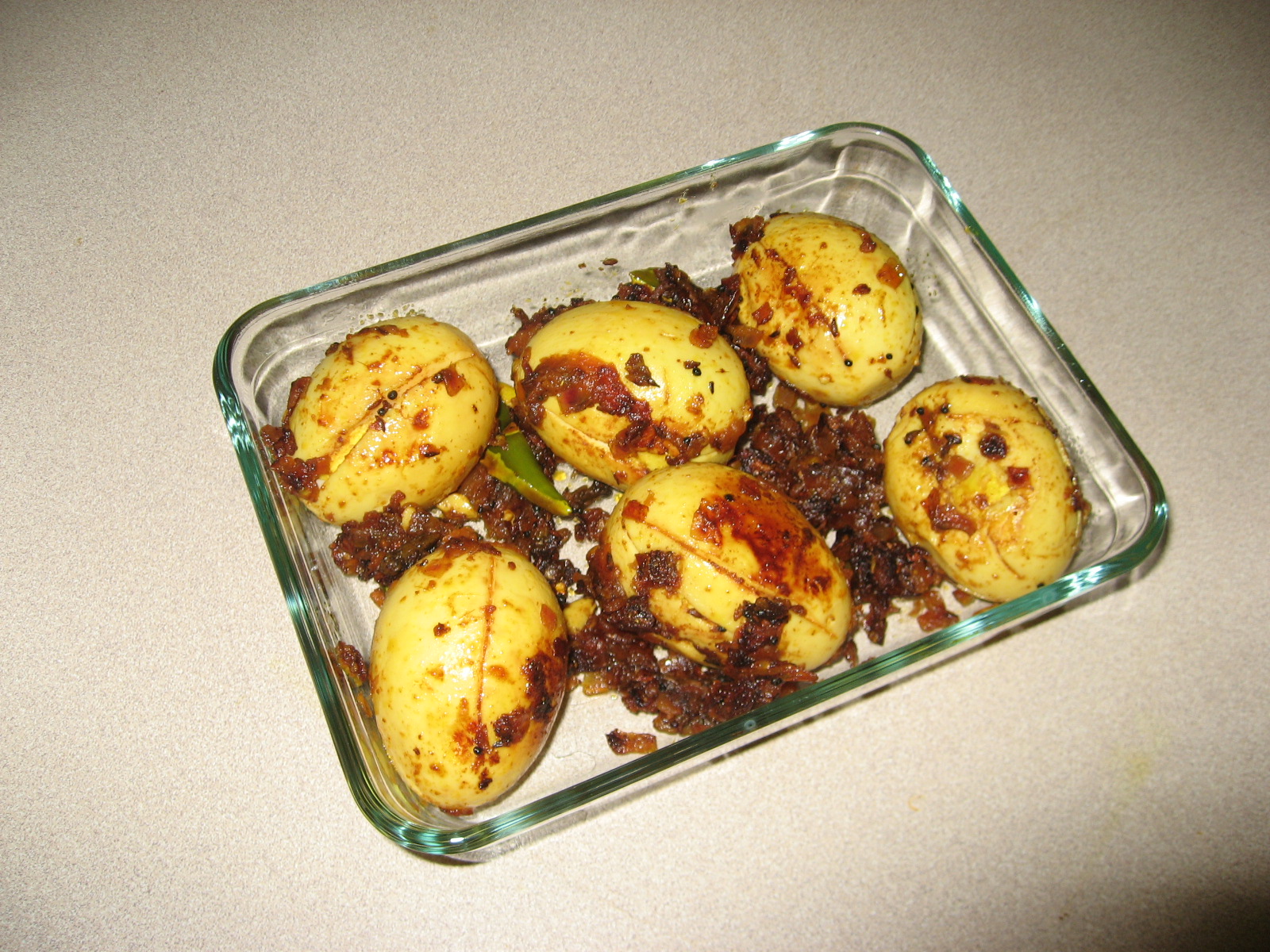 Ingredients
Eggs

5 Small

Tomatoes

1 Large

, chopped

Onions

1⁄4

Green chillies

3

Cumin seeds

1⁄2 Teaspoon

Amchur

1⁄4

Dhaniya

1⁄2 Teaspoon

Cilantro sprig

5

Turmeric powder

To Taste
Nutrition Facts
Serving size
Calories 70 Calories from Fat 36
% Daily Value*
Total Fat 4 g6.2%
Saturated Fat 1.2 g6%
Trans Fat 0 g
Cholesterol 160.7 mg
Sodium 58.5 mg2.4%
Total Carbohydrates 4 g1.2%
Dietary Fiber 0.82 g3.3%
Sugars 2.1 g
Protein 5 g10.9%
Vitamin A 14.8% Vitamin C 34.1%
Calcium 3.3% Iron 7.4%
*Based on a 2000 Calorie diet
Directions
Boil eggs separately, peel the shells. Make small slits on the eggs & keep aside.

Heat 4 tbs oil in a shallow pan. Add cumin seeds, onions, green chillies, turmeric powder & fry until onions turn brownish.

Add chopped tomato pieces, salt, chilly powder & amchoor powder. Cover with lid for a minute. Once the tomatoes turns tender smash with a spatula & fry until oil separates.

Add boiled eggs, mix well so that the mixture coats the eggs properly.

Keep changing the sides of the eggs so that all the sides get fried well.

Serve Immediately.

looks delicious.. guess uve a good collection of egg recipes..
Posted on:
31 October 2007 - 1:11am

Eggs provide a significant amount of protein,vitamin A, riboflavin, folic acid, vitamin B6, vitamin B12, choline, iron, calcium, phosphorus and potassium. One large chicken egg contains approximately 7 grams of protein. so this is a healthy recipe! thanks snigdha!
Posted on:
20 July 2007 - 4:30pm

Snigdha I love egg curry, I think this is the boiled eggs not fried from the photo. For some reason I can't open the recipe or directions tonight, but will check tomorrow. Eggs are very healthy for everyone. Even with chiolestrol-now they say eggs are OK.
Posted on:
20 July 2007 - 12:25am