»

Recipes

»

Pie

»

Fried Apple Pie
Fried Apple Pie Recipe
Learn how to make Fried Apple Pie. An easy to make recipe, this is easy to follow and great for even a beginner.Your search for a great apple pie recipe ends right here!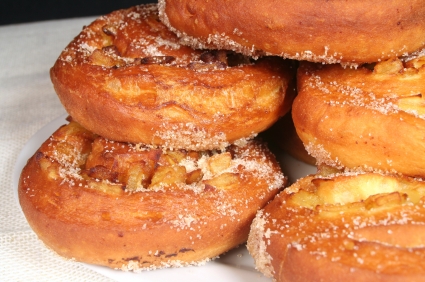 Summary
Preparation Time
5 Min
Cooking Time
30 Min
Ready In
35 Min
Difficulty Level
Easy
Ingredients
Flour

1⁄2 Cup (8 tbs)

Sugar

2⁄3 Cup (10.67 tbs)

Shortening

2⁄3 Cup (10.67 tbs)

Milk

1 Cup (16 tbs)

Salt

2 Teaspoon

Eggs

2

, slightly beaten

Baking powder

1⁄2 Teaspoon
Nutrition Facts
Serving size: Complete recipe
Calories 2232 Calories from Fat 1368
% Daily Value*
Total Fat 155 g237.7%
Saturated Fat 41.6 g207.8%
Trans Fat 18 g
Cholesterol 445.6 mg
Sodium 4310.2 mg179.6%
Total Carbohydrates 194 g64.8%
Dietary Fiber 1.7 g6.8%
Sugars 146 g
Protein 26 g52.6%
Vitamin A 14.4% Vitamin C
Calcium 50.7% Iron 29%
*Based on a 2000 Calorie diet
Directions
Mix together dry ingredients; add milk and eggs. Mix until it is smooth
and does not stick to hands. Roll dough and cut into 4 inch circles. Place
1 teaspoon apple pie filling in center. Fold over. Wet the edges and press
edges with fork. Fry in deep fat until brown. Cool. Sprinkle with
confectioners' sugar. Either canned or homemade pie fillings can be used
in any flavor.

Anonymous says :
The picture looks like an apple fritter made in a muffin pan. Not a fried pie.
Posted on:
14 March 2011 - 1:49pm

ddrreeww says :
looks somewhat disgusting. if your lucky i will try it
Posted on:
22 March 2010 - 8:22am

This seem to be an easy recipe I feel, something I can cook this weekend. Will definitely try this out! Thanks.
Posted on:
2 December 2008 - 6:07am