»

Recipes

»

Pea

»

Fried Spicy Peas
Fried Spicy Peas Recipe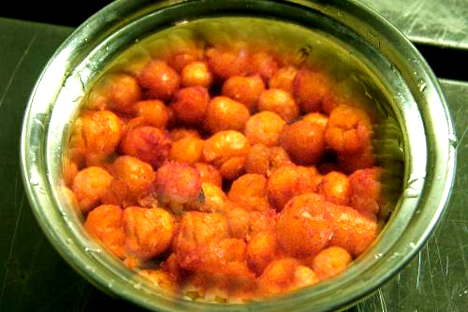 Ingredients
Frozen peas

1 Pound

, thawed (500 Grams)

Frying oil

1⁄2 Pint

(300 Milliliter)

Chili powder

1 Teaspoon

Ground coriander

1⁄2 Teaspoon

Salt

1 Teaspoon

Mango powder

1 Teaspoon

(1 Can)
Nutrition Facts
Serving size
Calories 811 Calories from Fat 690
% Daily Value*
Total Fat 74 g114.5%
Saturated Fat 13.3 g66.3%
Trans Fat 0 g
Cholesterol 0 mg
Sodium 829.6 mg34.6%
Total Carbohydrates 23 g7.8%
Dietary Fiber 7.8 g31.1%
Sugars 8.8 g
Protein 8 g16.4%
Vitamin A 72.6% Vitamin C 47.4%
Calcium 4.5% Iron 15%
*Based on a 2000 Calorie diet
Directions
Place the peas in a strainer to drain off any excess liquid.
Heat the oil in a heavy-based saucepan or karahi and fry the peas for 3-5 minutes.
Remove from the pan with a slotted spoon and drain on absorbent kitchen paper.
Meanwhile, in a large mixing bowl, mix together the chilli powder, ground coriander, salt and mango powder.
Put the peas in the bowl, hold a large plate on top and shake thoroughly so that the peas are well coated with the spices.