»

Recipes

»

Rice

»

Fried Rice With Shrimp
Fried Rice With Shrimp Recipe
Fried Rice With Shrimp is an amazingly delicious main course meal recipe. Try this recipe; I am sure you will have a huge fan following for this one!
Shrimp fried rice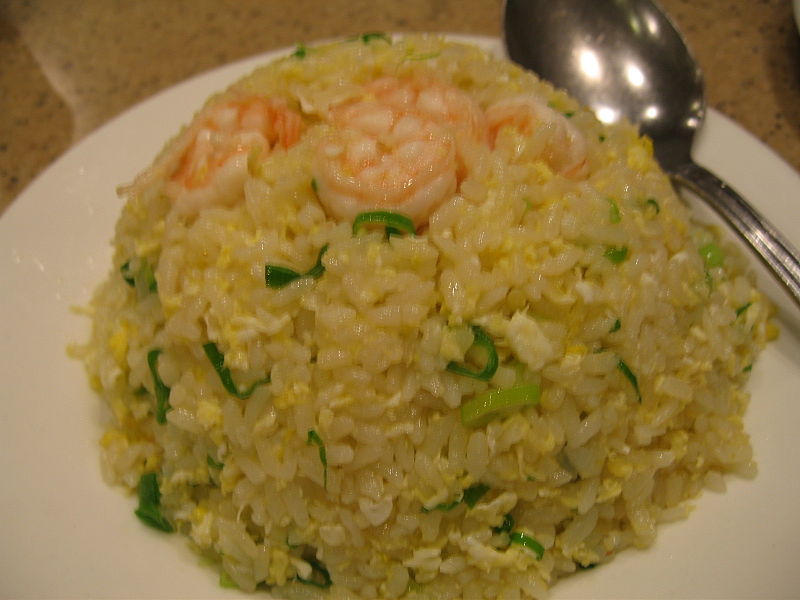 Ingredients
1/2 cup salad or peanut oil

1/2 cup Chinese cabbage or finely diced celery

Water chestnuts

1/2 Cup (16 tbs)

, sliced

1/2 cup scallions, cut into thin diagonal strips

Parsley

2 Tablespoon

, finely chopped

Cooked rice

3 Cup (16 tbs)

1/2 cup smoked ham (preferably Smith field) cut into small cubes (optional)

Ground black pepper

1 To taste

Soy sauce

3 Tablespoon

2 cups cooked, shelled shrimp

Butter

2 Tablespoon

Water

2 Tablespoon

Eggs

4 standard

Salt

To Taste
Directions
1. Heat the oil in a large skillet and add the vegetables. Cook quickly, stirring occasionally, three or four minutes.
2. Add the rice and ham and mix well, adding more oil if necessary. Season to taste with salt, pepper and soy sauce.
3. Add the shrimp and cook, stirring, until heated through.
4. Melt the butter in a separate skillet, add the water to the eggs and beat, then let them cook without stirring to make a pancake. Do not turn. Cut the pancake into thin strips and sprinkle over the fried rice.