»

Recipes

»

Oyster

»

Fried Oysters
Fried Oysters Recipe
Deep fried oysters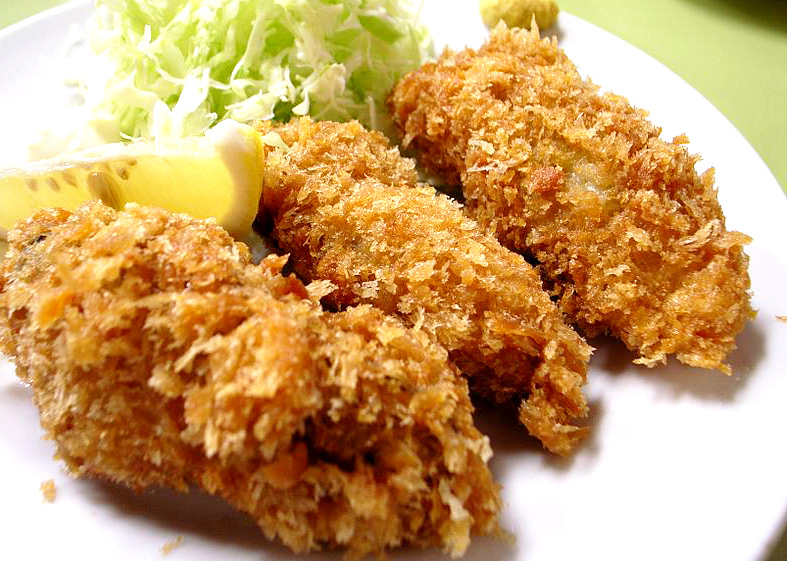 Ingredients
Shucked fresh oysters

18 Large

(Or 24 Medium Ones)

Flour

1⁄2 Cup (8 tbs)

Eggs

2

, slightly beaten

Milk

4 Tablespoon

Fine dry bread crumbs

1 Cup (16 tbs)

Salt

1 Teaspoon

Fat/Shortening

2 Cup (32 tbs)

(For deep frying)
Nutrition Facts
Serving size: Complete recipe
Calories 1659 Calories from Fat 737
% Daily Value*
Total Fat 83 g127.2%
Saturated Fat 17.6 g88.1%
Trans Fat 0 g
Cholesterol 1002.8 mg
Sodium 4569.2 mg190.4%
Total Carbohydrates 121 g40.3%
Dietary Fiber 3.9 g15.8%
Sugars 7.2 g
Protein 95 g190%
Vitamin A 11% Vitamin C 67.2%
Calcium 55.9% Iron 39.9%
*Based on a 2000 Calorie diet
Directions
1. Set the frying kettle on a warm part of the range. Fill it half full of fat or shortening and let it slowly heat to 375° F., or hot enough to brown a 1-inch cube of bread in 40 seconds to 1 minute.
2. Drain the oysters, dip them first in the flour, then in the eggs beaten with the milk, then in the crumbs mixed with the salt.
3. Fry, about 6 at a time, in deep, hot fat 2 or 3 minutes, or until golden brown. Drain on paper towels.